Read Spiritual Poems
by Katherine T Owen
on the spiritual journey:
To receive a FREE ebook on forgiveness
by the author of this site,
enter your email address in the box below.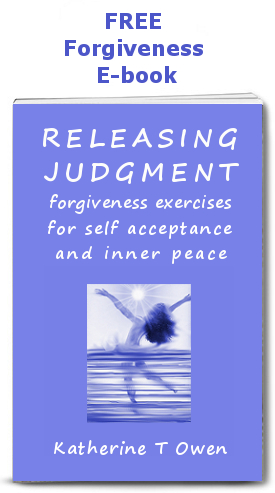 Be Loved
Beloved
15 Spiritual Love Poems
God Love Self Love
Katherine T Owen's small beautiful collection of poems take the reader with her as she journeys to know both self love and
God's love.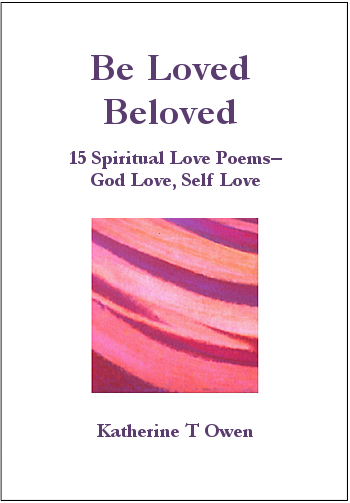 Spiritual poems from The Book It's OK to Believe - Poems about religion and faith
Hello God
On Its Way
Powerful Belief
Acquitted
Why Pray For One Who Hurts You
Hear Katherine T Owen Read Short Inspirational Poems On The Radio And Internet


Individual Spiritual Poems by Katherine T Owen on this site:
You are Beautiful

The Spiritual Journey

Small Time of Quiet

On the 5th of February

Thy Will Be Done

A Powerful Thing - A Poem about Faith
Other poems by Katherine T Owen online appear in these sections:
Poems about illness and The 7 Stages of Grief:
Poems about Healing
Read spiritual healing poems by visitors to this site.

A Poem About CFS/ME and Mental Health
Motivational Poems /Poems About Learning talk you through how to make learning easier.
Follow the links for these three prayer poems:
Here are some more poems about prayer:
From the article: Communicating With God:
Hello God

Hello God, I say
in the silence of my head,
as I look up
into the
deep,
blue,
vastness
of the sky.
Hello Katherine,
comes the immediate reply;
and I feel comforted,
less alone.
I smile to myself, for
I know my own voice
answers me.
And God smiles.
What does He care
whose voice He uses?



I am not alone… I can hear Him.
"It is your voice to which you listen as He speaks to you.
It is your word He speaks.
It is the Word of freedom and of peace, of unity of will and purpose, with no separation nor division in the single Mind of Father and of Son.
In quiet listen to your Self today, and let Him tell you God has never left His Son, and you have never left your Self."
(W-125.8, A Course In Miracles)
(c) Katherine T Owen
From a page on Prayers To Ask God To Provide:
On Its Way
If you have a sense of an
all-loving
all-powerful
omnipresent God,
then pray.
Say clearly what you want,
then rest in confidence;
This or something better
is on its way.



It's OK to have a parent who has the resources and the love to give you everything you ask for.

"Let us therefore come boldly unto the throne of grace, that we may obtain mercy, and find grace to help in time of need."
(Hebrews 4:16, KJV esword Bible quote)
There is also a poem about prayer on a page about the good news of Christianity and Spirituality: Powerful Belief


---
There are other inspirational poems threaded through this site. Just look out for the peach coloured tables like the ones above.


The following pages on spiritual poetry may be of interest:
The next page - Forgiveness Poems
Click here to SUBMIT YOUR OWN SPIRITUAL POEMS and read inspiring poems from visitors to www.a-spiritual-journey-of-healing.com. 

Hear Katherine T Owen Read Short Inspirational Poems On The Radio And Online.
Visit the website of a friend and colleague: Inspirational Poems (www.poems-haiku.com/inspirational)