Poem about answering Love's call
by Robert Gresak
(South Africa)
NOBILITY
All that is noble in the human spirit
is surely now being flame-writ
as many souls prepare to knit,
to blend with divine light their all;
to answer love's eternal call.
The trait of true decency,
the balance of impartiality,
the calm grace of inner strength
signifies the great length
of such souls.
Godly power flows in full spate
annulling and cleansing the Earth of hate.
Come, come awakened soul
fill the bowl of your questing mind -
your blessed and open loving heart
walk the shining way and play your destined part.
Your nobility of heart and soul ablaze,
you draw those ready for Light's ascended ways.
Be ever noble, ever gracious.
Let truth and cosmic love your being impress.
Move to a page on
I am Blessed and a Blessing
Love Energy Has Arrived
by Maxine Whitfield
(San Diego, California)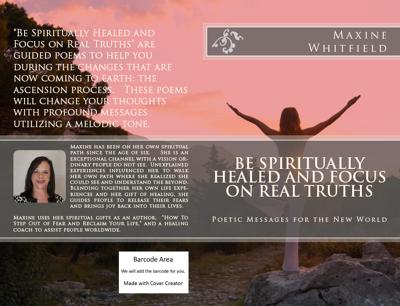 Love energy has arrived here on earth

It's the beginning of Earth's rebirth

Some of us feel it, some of us refuse

But it will happen sometime soon

If you still your mind and become silent within

You will let the Love energy in

It feels great to peel away the layers

The hurt, pain, sorrow, confusion

But I have come to the conclusion

That my past had kept me in pain

Now I feel fresh and alive

New beginnings have arrived

I have been born anew and so can you

With new thoughts, new ideas, new me, new you,

We all can create love and abundance into our lives

By releasing negativity

Focus on creativity

Start over, fresh, and have love for all

Be happy, feel alive, go out and have a ball


http://www.spiritualhealersassociation.com
Author "Be Spiritually Healed and Focus on Real Truths"
my book of poems
Join in and write your own page! It's easy to do. How? Simply click here to return to Submit Spiritual Poems.
Encouraging Poem
by Eleanor Leech
(Lowestoft, Suffolk, United Kingdom)
Flourish
A baby is born to nourish.
A seed is planted to flourish.
Encourage me to encourage you to speak your philosophy.
My words reach to great velocity.
Only heard by the minority.
Use the senses of life with sheer luminosity.
Treat each person with love and generosity.
Be part of the expanding story.
Create your beginning, make life your friend
and wait for the new beginning at the end of the end.
Never feel that you lack,
and if the world hates you, love it back.
Note from a-spiritual-journey-of-healing.com
Thank you Eleanor for your encouraging poem. And I love the picture!
Move from An Encouraging Poem to read more Encouragement Poems