Prayer For Forgiveness of Self and Someone Else

Prayer for forgiveness of self and other has been and is so important to me. You will understand why if I tell you a little of my story:
When I got ill, I did not have the help I needed to rest and recover. I had to go against the advice to rest in order to continue to look after myself. I got more and more ill. I ended up living severely disabled with ME, bedbound for 14 years. I felt that my deterioration was unecessary and was angry that no one stepped forward to ensure that I got enough to eat.
I developed the powerful forgiveness exercises of the release which you can read about in my FREE ebook - Releasing Judgment.)
Prayer for forgiveness also helpd me to keep my heart open. I wanted to be able to receive blessings instead of living with bitterness.
To receive a FREE ebook on forgiveness
by the author of this site,
enter your email address in the box below.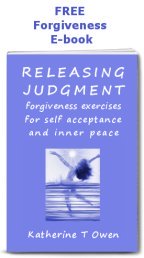 Articles on Prayer for Forgiveness:
This forgiveness article is on self forgiveness. The next one is on how to forgive someone else - see links below.
Both articles include forgiveness quotes from The Bible and A Course In Miracles.
PRAYER FOR SELF FORGIVENESS
1. A Spiritual Prayer For Forgiveness of Self
2. Catholic Prayer For Self Forgiveness – Guilt or Release?
3. I Don't Have To Be Right To Be OK
4. Advice On Self Forgiveness In The Bible
5. Self Forgiveness Exercise to do with A Friend
6. Free ebook On Self Forgiveness and Forgiveness of the other

7. A Child's Self Forgiveness Prayer
HOW TO FORGIVE SOMEONE ELSE
8. A Spiritual Forgiveness Prayer - A Step in How To Forgive Someone Else
9. Don't Try To Forgive On Your Own - Forgiveness Quotes
OTHER ARTICLES ON FORGIVENESS ON www.a-spiritual-journey-of-healing.com:
A practice of forgiveness I use in my life and in my work, called "The Release".

SHARE Your Forgiveness Stories and Wisdom

Definitions of Forgiveness From A Course In Miracles
Seeking inner peace through the practice of forgiving self and other.

PRAYER FOR SELF FORGIVENESS
A Spiritual Prayer For Forgiveness of Self
Spiritual Prayer For Forgiveness of Self - release from unhelpful guilt

Dear God,
I feel bad about feeling/doing________.
Sometimes I feel I will never get it right.
But my feeling of guilt is not helping. In fact, it is making things worse.
Feeling wrong is so unpleasant that I look to someone else to blame.
Sometimes I make a mistake and I then get angry with someone for feeling upset about it. I am really sorry about this.
I feel like I am doing my best.
But, I also believe, with your help, I can do better.
There must be a better way.
Feeling/doing________ is affecting my sense of worth.
Feeling/doing________ is affecting someone I care about.
Dear God,
I can't do this on my own.
I am beginning to realise that I don't need to;
that the humility you need is the moment when I realise that I can't do it on my own.
Dear God, help me.

Give me an understanding that I am not this body that does things in the world, but part of your unending Love.
Allow me to see the beauty that you see in me.
Allow me to understand that since you created me Innocent and part of You, then that is what I am.

Father, this feeling of guilt has brought me to you, so I am grateful for it.

I now replace this feeling of guilt with a quiet trust.
I now replace any thought of guilt with a quiet trust.
I hand this over to you, God.
When I find myself feeling/doing________, I remember that you are working in me to bring change.
I am not on my own with this.
Thank you God.
You are a big God, and this problem is small for you.
I place myself in your hands.
Thank you for the peace you bring to my heart.
May I be blessed and be a blessing.
Thank you.
Amen.
Make this prayer for self forgiveness your own by missing out anything which does not apply to your own situation. Or write your own prayer.
If you would like advice about developing the habit of forgiveness, please request my FREE E-book - Releasing Judgement – Forgiveness Exercises for Self Acceptance and Inner Peace.
Forgiveness is the main spiritual practice which allowed me to keep my heart open to God through 14 years of severe illness and hardship.
Catholic Prayer for Forgiveness – Guilt or Release?
A Catholic prayer for self forgiveness can also be called an act of contrition. I have just looked up the definition of contrition on Wikepedia.
"Contrition or contriteness (from the Latin contritus 'ground to pieces, i.e. crushed by guilt) is sincere and complete remorse (i.e. regret with a sense of guilt) for sins one has committed."
Yikes.
That last sentence contains so much of what can potentially cause damage in religion. Ground to pieces, crushed by guilt.
I can't see anything positive in that.
And the word "sin" has become a trigger word for so many people.
The idea of saying a prayer for forgiveness is not to be crushed by guilt. It is very much the opposite.
It is to remove ourselves from under the weight of guilt by acknowledging a mistake we think we have made and asking for forgiveness.
Catholics have available the sacrament of penance. You go to a priest at least once each year, confess your sins/mistakes, say a prayer for forgiveness, and receive absolution from God via the priest.
You can also attend a mass twice a year dedicated to prayer for forgiveness. It is called a penitential service.
Any non-catholic would, I hope, be welcome to attend.
For myself, growing up as a Catholic Christian, I ended up with an unhealthy, I would say, ungodly sense of guilt. It did not come from these practices though. Not at all.
These practices cultivated a belief in me of a loving God who always forgives.
Many people of various religions – especially in previous generations, had the opposite experience – the experience of a punishing and unforgiving God.
Many secular (non-religious or non-spiritual) people with experience of being punished unfairly or not being forgiven also have a poor ability to forgive themselves or expect forgiveness from others.
I was blessed to be taught a God of love not of fear.
Move to Top of page
When I was ill and housebound, my spiritual journey eventually moved me back towards Christianity. A priest started to visit me at home.
To my surprise, I found an enormous sense of release and relief in saying The Confiteor – a prayer for forgiveness which is said in every mass.
The Confiteor
I confess to almighty God,
and to you, my brothers and sisters,
that I have sinned through my own fault,
in my thoughts and in my words,
in what I have done, and in what I have failed to do;
and I ask blessed Mary, ever virgin,
all the angels and saints,
and you, my brothers and sisters,
to pray for me to the Lord our God.
I realised that without practising belief in a loving, all-accepting God, I had started to define my worth by whether I was right or wrong.
There was a tightness about me, an unhealthy need to be right.
In turn, this was making it harder for me to see when I was in the wrong.
What a relief to remember we don't have to be right to be OK. We can ask others to accept us as we are. We can ask others to say a prayer for forgiveness for us.
There is a wonderful line in A Course In Miracles:
"Do you prefer that you be right or happy?" (T-29.VII.1)
When you feel unhappy with yourself or another, say this ACIM quote to give God access to show you another way of seeing things; one that leads to peace.
Do I prefer to be right or happy?
Dear God,
I choose happiness.
Please redirect my thoughts and give me your peace.
Thank you.
Amen

Advice On Self Forgiveness In The Bible
Christian forgiveness generally has some practice for carrying out the following advice on self forgiveness given in the Bible:
"Confess your faults one to another, and pray one for another, that ye may be healed."
(James 5:16 , KJV e-Sword)
Action Points
If the Confiteor prayer above suits you, please use it. You will have the benefit of joining your mind with a billion or more Catholics around the world who use it. And there is a very similar penetential prayer in the Muslim tradition.
But I know it will be too religious for some of you - Christian or otherwise.
If so, read the prayer for forgiveness at the top of this page and see if it helps to bring you to peace.
Or write yourself a prayer for forgiveness of self; one that helps you to feel okay about having made a mistake.
Self Forgiveness Exercises With A Friend
Self forgiveness exercises
We can feel guilty about something we don't even think is bad, yet we feel really bad about it. If this is the case for you, stop and consider if you have a good friend who might help you with the following self forgiveness exercise.
Give the friend an idea of what you feel guilty about.
Ask them:
"Can I say to you
"I feel guilty about..."
and will you able to say to me:
I forgive you for...?"
"Can we repeat this forgiveness exercise a number of times to allow me to feel my guilt and receive your forgiveness"
It can be a surprisingly powerful experience for us to hear a friend say:
"I forgive you for...."
You may need to repat this little forgiveness exercise many times so you keep hearing the words: I forgive you.
We can be rather stubborn about forgiving ourselves. :-)
An example in my own life is that I feel guilt and shame for being ill.
I know, logically, that illness is not my fault. But it is powerful for me to hear the words...
"I forgive you for being ill."
To receive a FREE ebook on forgiveness
by the author of this site,
enter your email address in the box below.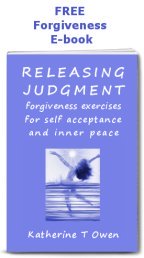 As a child I prayed the following prayer for forgiveness every night:
I love thee Lord Jesus,
forgive me please do.
I'll try to be good because
I love you.
Amen
The simplicity of this child's prayer has appealed to me in some dark times.

(If you are looking for spiritual resources for a child,  you may want to read a wonderful poem about Jesus' crucifixion and resurrection.
This poem is a rhyming poem which makes it suitable as a children's Bible poem).
I was taught that the nature of God is such that forgiveness is guaranteed. God always forgives. It is ourselves who resist self forgiveness.
The only requirement to receive forgiveness is to be sorry and to say a prayer for forgiveness.
"I will forgive their iniquity, and I will remember their sin no more."
(Jeremiah 31:34, KJV e-sword)
A Course In Miracles goes further. The following is from amongst so many profound and powerful forgiveness quotes in the Course:
"God does not forgive because He has never condemned. And there must be condemnation before forgiveness is necessary."
(W-41.1, A Course In Miracles)
"God does not forgive because He has never condemned."
Powerful words.

We need forgiveness because we believe we have done something wrong. God does not need to forgive because he created us perfect.
Whatever we believe about ourselves and the world, He knows these are just illusions.
Beyond the body, our reality and our innocence remain in Him.
My spiritual journey is one where I move more and more towards defining myself by the beauty God sees in me instead of the way myself or the world sees me.
I am willing to take His word for what I am: what we all are.
As this poem about self forgiveness conveys, in God's eyes, we are innocent.
---
Move to the TOP of this article on Prayer for Forgiveness.

Move to read self forgiveness poem.

Move from Prayer For Forgiveness of Self to the next page -
Spiritual Forgiveness Prayer - How to Forgive Someone

Move to see a List of Prayers on a-spiritual-journey-of-healing.com

Click here for the home page - Practical Spirituality and Healing