Forgiveness of Self and Other

Forgiveness of self and other has been and is so important to me. You may understand why if I tell you a little of my story:
When I got ill, I did not have the help I needed to rest and recover. I had to go against the advice to rest in order to continue to look after myself. I got more and more ill.

The tapping summit runs from
25th Feb to 8th March 2019.
I listen every year and recommend it soooo highly.

With my love, Katherine
I ended up living severely disabled with Myalgic Encephalomyelitis, bedbound for 14 years. I felt that my deterioration was unnecessary and I felt hurt that no one stepped forward to ensure that I got enough to eat.
I also felt guilty for feeling hurt and guilty for having an illness!

I developed the simple yet powerful forgiveness exercises of the release which you can read about in my FREE ebook - Releasing Judgment.)
To sign up to receive a FREE ebook on forgiveness
by the author of this website,
and/or to keep in touch
enter your email address in the box below.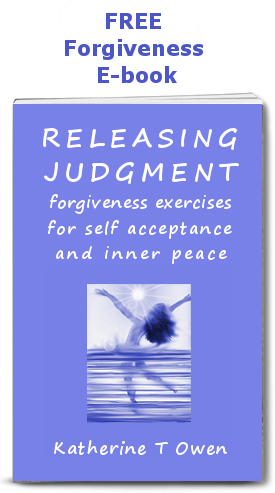 Please be totally assured that your email address will not be passed on to anyone else

As we learn to be willing to forgive each challenge, instead of shutting down in pain or self condemnation, we keep our heart open.
We meet the challenges of life with less fear and increasing confidence.
The bumps of life become an unending stream of guidance.
Our lives go in the direction of becoming richer, bigger and more joyful.
This summary page links to a selection of articles on this website which offer advice on forgiving. Please follow those which call to you.
I ask you to join me in seeing yourself, me and all who read this as feeling soothed, restored and at peace.
Thank you so much.

With my love, Katherine
Katherine T Owen, webmaster at
www.a-spiritual-journey-of-healing.com

Articles on Forgiveness:
SELF FORGIVENESS
Click through for an article on prayer for self forgiveness which includes a spiritual prayer to ask for and receive forgiveness for yourself 
Another article on Forgiving oneself includes the following:
* Does God Forgive, Or Not?
* Self Forgiveness Exercise to do with A Friend
* A Child's Self Forgiveness Prayer
Move to read famous Catholic prayers for forgiveness along with a discussion about whether they bring guilt or release.
HOW TO FORGIVE SOMEONE ELSE
Articles on how to forgive someone else are as follows:

OTHER ARTICLES ON FORGIVENESS

Move to Top of page
---
Move to see a List of Prayers on www.a-spiritual-journey-of-healing.com

Click here for the home page - Practical Spirituality and Healing
Please respect the author's copyright. I am delighted if you choose to share on social media, but please do NOT reproduce any of the contents of this page without permission.
© Katherine T Owen