Living With Chronic Fatigue Syndrome
... The previous page: Recovery from Chronic Fatigue Syndrome.

The Contents List for CFS articles on this page: Please scroll down.
Skills that are useful FOR LIFE and FOR ANYONE
Can we live life in the present moment?
You are still here. Well done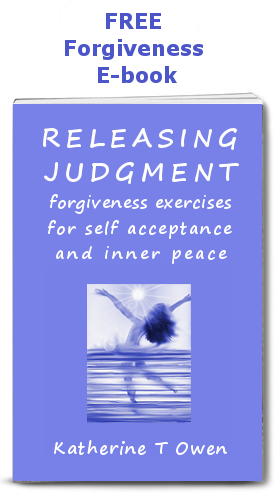 To receive Releasing Judgment, a FREE ebook
or just to keep in touch, sign in below.

Your email will definitely not be misused
and you can unsubscribe at any time.
With love, Katherine

The Contents List for articles on this website related to CFS /ME:

Spirituality in Illness- How can it help?
Other ME/ CFS Articles on a-spiritual-journey-of-healing.com
What the terms M.E and CFS stand for

CFS/ME can be life-threatening. Even in its milder forms, it is a serious and debilitating condition.
Using spirituality in recovery from illness


An author on holistic healing advises treatments for CFS
CFS Articles on my new healing website www.HealingCFSME.com
Skills that are useful FOR LIFE and FOR ANYONE
With a couple of exceptions, the beauty of many of the approaches outlined in the following pages is that they are useful skills and outlooks to acquire both FOR LIFE, and FOR ANYONE.
If the only motivation for a treatment is the hope of recovery, then we quite rightly stop if we see no improvement in health.
With the approaches on the following pages, many - such as inner journeys and Qigong energy healing - offer immediate rewards in terms of creativity or peace.
With others, such as learning to rest , it is easy to see that it is a skill worth gaining and therefore worth persevering.


Can we live life in the present moment?
If your life is lived with the aim of getting better, this is admirable. But if you seek recovery full-time your life is also in a way centred on being ill.
You are in danger of living only for the future - a time of health. And in your darker moments, you doubt this time will even come.
It is a really positive step if, as much as possible, we can also live our life around what we can do now. It is truly wonderful if we can take a step towards accepting ourselves and our life in this moment. Spiritual acceptance is especially powerful.



It takes strength to live with illness. Well done
This is not an exhaustive list of what I did to stay alive - not at all. And I initially missed out pacing and switching, so there may be some other obvious omissions.
When you look at this list, it highlights just how many skills you may be acquiring in your journey with mild or severe Chronic Fatigue Syndrome or any other chronic illness. Please stop and congratulate yourself for all you do.
And if it feels like you are not following any of these methods very well, then stop and give yourself credit for following them at all. Well done.
(If you want a break from reading about illness, and feel in need of a little more encouragement, you may enjoy my poem The Tortoise And The Hare.) When you are learning and growing, you are moving forwards, even if you can't always see it.


Other articles related to Living With Chronic Fatigue Syndrome/ME
Click here for the next page on Living With CFS - Spirituality and CFS/ME

Some of you here may be concerned that because I recovered through faith and processes that involve working with the mind, I was not physically ill, or do not take Chronic Fatigue Syndrome seriously as a physical illness. If so, please click here for additional pages, starting with a page on my experience of how CFS/ME can be life-threatening.


Click here for the home page - How To Deepen Our Spirituality


Please respect the author's copyright. I am delighted if you choose to share on social media, but please do NOT reproduce any of the contents of this page without permission.
© Katherine T Owen