Submit Spiritual Poems
Contents List For Submit Spiritual Poems
Spiritual Poetry Submissions - The Guidelines
Submit Spiritual Poems and view visitors' poems
APOLOGIES. NOT CURRENTLY OPEN FOR SPIRITUAL POETRY SUBMISSIONS.

Read or submit Christian Poetry
Many poems in this page of spiritual poetry are written by Christians. You can also click through for a page of poems which specifically use Christian metaphor or Bible references.
The guidelines are the same so if you hope to have a Christian poem published, please also read the guidelines below.
Read or submit Motivational Poetry or Stories
Go here to submit your Motivational Poems or Stories
The guidelines are the same so if you hope to have a motivational poem published, please also read the guidelines below.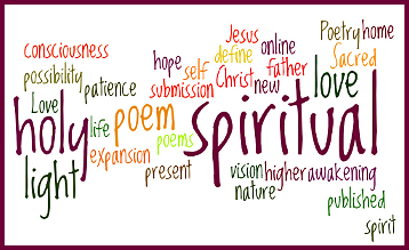 How To Submit Spiritual Poems For A-Spiritual-Journey-Of-Healing.com
1. Spiritual poetry about faith from many perspectives is considered. The poetry needs to represent a God of love or themes of Oneness or unity.
This site is interfaith but is run by a spiritual poet inspired direct from Source but also by A Course In Miracles. I am a non-duality Christian.
2. Your own spiritual poems are preferred. If you wish to submit a favourite poem by another, please check that the copyright has expired. The author must have died more than 75 years ago. Alternatively, you can submit a poem by a living poet with the poet's permission....

...

3. Your poems must not appear elsewhere online. If I find out that they do, I will remove the poems. Search engines penalize those websites that duplicate content. It it therefore not in the interests of www.a-spiritual-journey-of-healing to publish spirituality poems already published. It is not in your own interests either, as your poems are less likely to be found.

4. Your website address can be included, but it will not be put as a link. Please include your full name so people can search for you if they like your work. Feel free to include a one or two sentence bio.
6. My decision about which work to include is final. Please do not take it as a critique of your spiritual poetry if it is not accepted. I may have to decide quickly. I simply make my own choice. Someone else would choose differently. Please also do not take the inclusion of a poem to mean that it is in line with my own beliefs.
7. Be sure to complete the box to say where you are from.
8. The option is given to include your email address. This allows you to be notified if/when your poem is published online.
This also allows you to be notified if someone later comments on your submitted spiritual poem.
On occasion there have been requests to contact the poet. Without an email address, this hasn't been possible.

The option to leave your email address is easy to miss. It appears AFTER you have clicked to submit the spiritual poem. So look out for it.

Leaving your email address there does not sign you up to this spiritual website. If you want to stay in touch - and I would like that very much - please sign up here and you will also receive my free forgiveness ebook.

8. Remember to use the copyright symbol if you want to.

9. To submit spiritual poems for this site, please use the submissions box below. Or submit Christian poems here.
10. How do I find out if my spiritual poem has been published.

If you submit your spiritual poem and it is accepted, the poem title and the first lines will be listed in the box at the bottom of this page. I often add an additional title.
Alternatively, I often add a new poem to a pre-existing page on the same topic. (This makes it more likely that your spiritual poem will be found and read.) In this case, the title of the page will be listed.
If you have included your email address, you will be sent a link to your poem. This is the best way to make sure you can find it!
Or you find out if your submitted spiritual poem has been published by searching for it in the google box at the top of each article on this spiritual website.

Thank You
Thank you for reading the poetry of others and thank you for submitting spiritual poems of your own.
Our poetry speaks of the importance of God, the Divine, Spirit in our lives and in the world.
We are blessed to know a little of God's Love for us,
We are blessed to feel God flowing through us,
I hold a place for the divine creativity of all who come to this page.
Thank you for reading this article.
And thank you for being here.

With the Love we are

Katherine
Katherine T Owen, webmaster at www.a-spiritual-journey-of-healing.com
Author of Be Loved, Beloved (Kindle)
Owner of the zazzle HealingStore for delightful customized gifts.

---
Or move to read visitors' powerful inspirational poems listed by topic
---
And now for your spiritual poetry published online....
Do You Want To Submit A Spiritual Poem?
Please submit spiritual poems here. See the submission guidelines at the top of the page.
What other spiritual poetry lovers have said
Click below to see contributions and comments from other visitors to this page...

---
Move from Submit Spiritual Poems to the home page - Practical Spirituality and Healing
Receive daily inspiration...
Receive daily inspiration by putting
your favorite (favourite) quote on
an item you see daily around your home-
a mug, cushion, postcard, coaster, T shirt etc.
You will find my zazzle gift store at
zazzle.com/HealingStore (USA)

Use one of my designs or start from a blank.

zazzle.co.uk/HealingStore (UK)

Thank you so much for supporting this website
www.a-spiritual-journey-of-healing.com
Katherine


My name is Katherine Owen.
Please respect my copyright as the author of this website.
I am delighted if you choose to share on social media, but please do NOT reproduce any of the contents of this page without permission.
© Katherine T Owen