Free Forgiveness Ebook 
This free forgiveness ebook teaches you a simple yet powerful forgiveness exercise which you can apply to all your relationships, including your relationship with yourself.
Don't wait until something happens so often that it drives you crazy.
Release judgment with this simple technique and you will receive insight that allows you to feel differently, behave differently or attract different behaviour from the other person.

---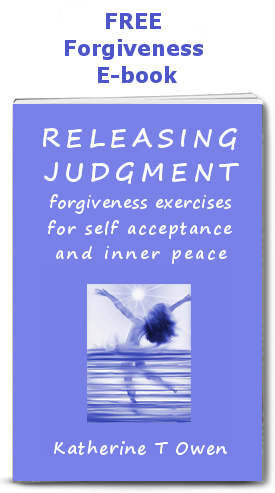 About this Forgiveness Book

Do you feel weighed down with the difficulties of your life and your feelings about it all?

Even when you can't change your circumstances, there is something you can do.

The forgiveness exercise of the release guides you towards self acceptance and peace of mind.
Katherine T Owen found herself with the illness ME/CFS and an inadequate level of care.
The condition deteriorated until she was unable to feed herself, unable to talk or stand. This was her situation for 14 years.
She needed to forgive those she loved for not stepping up to feed her.
She needed to forgive carers who treated her badly.
She needed to forgive herself for being ill, for needing help and for her feelings of hurt and anger.

A lot of self help techniques did not address such an extreme situation.
Forgiveness – maybe not as you know it! – was the one technique that worked over and over again.

Forgiveness exercises became Katherine's main spiritual practice and a way of life.
Whether in good or bad times we all experience emotions such as fear, hurt and anger.
We need practices to return us to peace.
Releasing Judgment is a simple yet powerful forgiveness exercise.

Releasing Judgment
A Free Forgiveness Ebook

Please help yourself to this FREE book on forgiveness by entering your details in the box below.
If you want to share the free ebook with others, you can click on one of the icons at the bottom of the page.
You will be sent an email giving you the link to your copy of the book.

Please check your junk or spam folder to make sure you collect it.

Along with the ebook you will receive occasional emails from myself - Katherine T Owen.
Please know that you can unsubscribe at any time - you will find the link to do so at the bottom of any email you receive from me.

Thank you for being here.

Wishing you every blessing on your journey to forgive and keep returning to peace.

Receive daily inspiration...
Receive daily inspiration by putting
your favorite (favourite) quote on
an item you see daily around your home-
a mug, cushion, postcard, coaster, T shirt etc.
You will find my zazzle gift store at
zazzle.com/HealingStore (USA)

Use one of my designs or start from a blank.

zazzle.co.uk/HealingStore (UK)

Thank you so much for supporting this website
www.a-spiritual-journey-of-healing.com
Katherine


My name is Katherine Owen.
Please respect my copyright as the author of this website.
I am delighted if you choose to share on social media, but please do NOT reproduce any of the contents of this page without permission.
© Katherine T Owen