Prayer For Forgiveness of Self

If you are looking for a prayer for forgiveness of someone else, follow this link.
Below you will find a prayer for self forgiveness.
Make the prayer your own.
Miss out anything which does not apply to your own situation. It mentions guilt.
Perhaps you don't feel guilt but you feel anger.

Replace words which trigger you - you might use the word Spirit instead of God.
Or write your own forgiveness prayer.
Articles relevant to Prayer for Forgiveness

Below the prayer you will find the following:
Catholic Prayer for Forgiveness – Does this bring guilt or release?
I Don't Have To Be Right To Be OK
Click here for a full list of forgiveness articles on this spiritual website.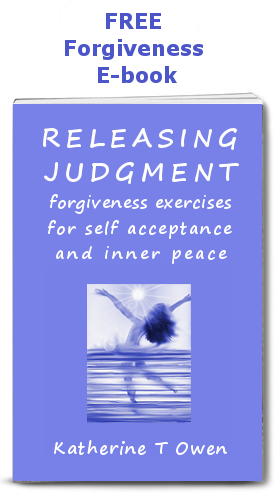 To receive Releasing Judgment, a FREE ebook
or just to keep in touch, sign in below.

Your email will definitely not be misused
and you can unsubscribe at any time.
With love, Katherine

A Spiritual Prayer For Self Forgiveness - release from unhelpful guilt
  Dear God,
I feel bad about feeling/doing________ (fill in the blank).
Sometimes I feel I will never get it right.
But my feeling of guilt is not helping. In fact, it is making things worse.

Feeling wrong is so unpleasant that I look to someone else to blame.

Sometimes I make a mistake and I then get angry with someone else for feeling upset about it. I am really sorry about this.
I feel like I am doing my best.
But, I believe, with your help, I can do better.

There must be a better way.
Feeling/doing________ is affecting my sense of worth.
Feeling/doing________ is affecting someone I care about.
Dear God,

I can't do this on my own.
I am beginning to realise that I don't need to;
that the humility you need is the moment when I realise that I can't do it on my own.
Dear God, help me.

Give me an understanding that I am not this body that does things in the world, but part of your unending Love.
Allow me to see the beauty that you see in me.
Allow me to understand that since you created me Innocent and part of You, then that is what I am.

This feeling of guilt has brought me to you, so I am grateful for it.

I replace any thought or feeling of guilt with a quiet trust.
I hand this over to you, God.
When I find myself feeling/doing________, I remember that you are working in me to bring change.
I am not on my own with this.
Thank you God.
You are a big God, and this problem is small for you.
I place myself in your hands.
Thank you for the peace you bring to my heart.
May I be blessed and be a blessing.
Thank you.
Amen.
Thank you so much for praying this prayer for forgiveness.

Forgiving yourself is so important.
When we don't forgive ourselves we are unlikely to forgive others.
When you don't forgive yourself you are are depriving yourself of the experience of God's love. You may be trying to help by punishing yourself. But actually you are blocking a source of Love that will allow you to be all you can be.
Let that source of Love flow into your life.

Let that Love overflow into the lives of others.

Forgive yourself. And then, if you need to say sorry to someone else, go and do it!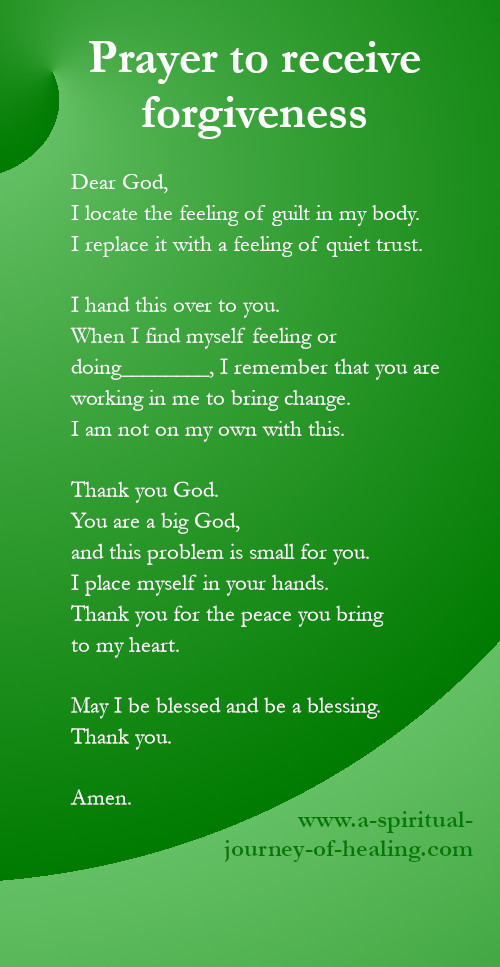 Cultivate the habit of forgiveness

Forgiveness needs to become a habit. If you would like advice about developing the habit of forgiveness, please help yourself to my FREE E-book - Releasing Judgement – Forgiveness Exercises for Self Acceptance and Inner Peace. See the box below.

To receive a FREE ebook on forgiveness
by the author of this site,
enter your email address in the box below.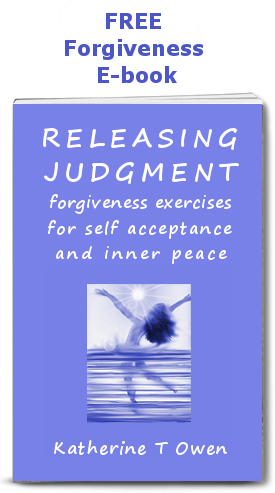 Please be totally assured that your email address will not be passed on to anyone else

Catholic Prayer for Forgiveness – Guilt or Release?
A Catholic prayer for self forgiveness can also be called an act of contrition. I have just looked up the definition of contrition on Wikepedia.
"Contrition or contriteness (from the Latin contritus 'ground to pieces, i.e. crushed by guilt) is sincere and complete remorse (i.e. regret with a sense of guilt) for sins one has committed."
Yikes.
That last sentence contains so much of what can potentially cause damage in religion. Ground to pieces, crushed by guilt.
I can't see anything positive in that.
And the word "sin" has become a trigger word for so many people.
The idea of saying a prayer for forgiveness is not to be crushed by guilt. It is very much the opposite.
It is to remove yourself from under the weight of guilt by acknowledging a mistake you have made or think you have made and asking for forgiveness.
Catholics have available the sacrament of penance. You go to a priest at least once each year, confess your sins/mistakes, say a prayer for forgiveness, and receive absolution from God via the priest.
You can also attend a mass twice a year dedicated to prayer for forgiveness. It is called a penitential service.
Any non-catholic would, I hope, be welcome to attend.
For myself, growing up as a Catholic Christian, I ended up with an unhealthy, I would say, ungodly sense of guilt. It did not come from these practices though. Not at all.
The practice of confession cultivated a belief in me of a loving God who always forgives.
Many people of various religions – especially in previous generations, had the opposite experience – the experience of a punishing and unforgiving God.
Many secular (non-religious or non-spiritual) people with experience of being punished unfairly or not being forgiven also have a poor ability to forgive themselves or expect forgiveness from others.
I was blessed to be taught a God of love not of fear.
Move to Top of page
When I was ill and housebound, my spiritual journey eventually moved me back towards Christianity. A priest started to visit me at home.
To my surprise, I found an enormous sense of release and relief in saying The Confiteor – a prayer for forgiveness which is said in every mass.
The Confiteor
I confess to almighty God,
and to you, my brothers and sisters,
that I have sinned through my own fault,
in my thoughts and in my words,
in what I have done, and in what I have failed to do;
and I ask blessed Mary, ever virgin,
all the angels and saints,
and you, my brothers and sisters,
to pray for me to the Lord our God.
I realised that without practising belief in a loving, all-accepting God, I had started to define my worth by whether I was right or wrong.
There was a tightness about me, an unhealthy need to be right.
In turn, this was making it harder for me to see when I was in the wrong.
What a relief to remember we don't have to be right to be OK. We can ask others to accept us as we are. We can ask others to say a prayer for forgiveness for us.
There is a wonderful line in A Course In Miracles (ACIM):
"Do you prefer that you be right or happy?" (T-29.VII.1)
When you feel unhappy with yourself or another, say this ACIM quote to give God access to show you another way of seeing things; one that leads to peace.
Do I prefer to be right or happy?
Dear God,
I choose happiness.
Please redirect my thoughts and give me your peace.
Thank you.
Amen

Christian Self Forgiveness Bible Quote

The basis for the practice of confession in the Catholic church is the Bible quote:
"Confess your faults one to another, and pray one for another, that ye may be healed."
(James 5:16 , KJV e-Sword)
---
Move back to the TOP of this article on Prayer for Forgiveness.

Click here for a full list of forgiveness articles on this spiritual website.
Please respect the author's copyright. I am delighted if you choose to share on social media, but please do NOT reproduce any of the contents of this page without permission.
© Katherine T Owen