Spiritual and Psychological
CFS Self Help
CFS Self Help follows on from: Chronic Fatigue Syndrome and Spirituality.

Please also see advice for Chronic Fatigue Syndrome Self Help on the page on Recovery from Chronic Fatigue Syndrome/ Myalgic Encephalomyelitis.
NB. The advice on this page is useful for living with any chronic illness.
Contents List for THIS ARTICLE on spiritual and psychological self help:
Click on a link or scroll down to read the whole article.

Other Articles relevant to Spiritual and Psychological - CFS Self Help
More advice that helped me move forwards when living with CFS.
---
Explore your spirituality and psychology - CFS Self Help
When I got ill, I decided to explore spiritual and psychological approaches for CFS self help.
I figured the more at peace I felt, the more energy my body would have available to heal.
This approach took a long time to bear the fruit of physical healing. And I continue to live with chronic illness today. Yet, I have no regrets and continue with this approach. Why?
Because I feel I am always growing. Even when my world has been as small as a room, my world has, in some ways, been BIG.
Raise self worth. Use affirmations. Be willing to experience God's love.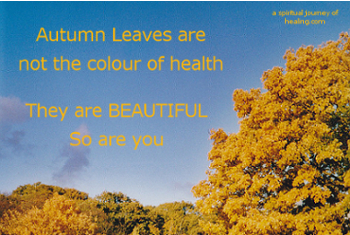 No matter how ill you are now, you are OK.
Whether you recover or not, you are OK.
Your worth is not defined by your health.
Your worth is not defined by what you can do or by how nice you can be.
You are inherently worthy.
To have a spiritual belief is a huge advantage here.
Many of us base our worth on what we can do.
But, if you believe in a benevolent, all-powerful God or Presence, and you believe this creative force has something to do with you being here, then you are part of something greater than yourself and you have value.
As someone said: "God doesn't do waste." If you are here you are meant to be here.
Here are some words on the subject of your inherent value in a prayer from John Henry Newman: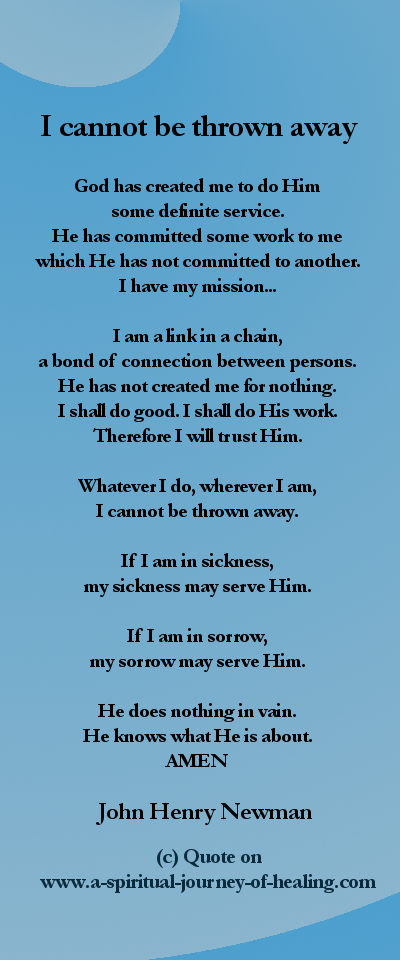 Decide to stay alive
It took extreme discipline to stay alive with very severe Chronic Fatigue Syndrome and inadequate care.
I did not have a day off being a carer (for myself) in 14 years.
I did not have a day off being ill - in physical pain and distress - for 17 years.
Death was tempting.
An important part of my CFS self help was to make a decision to stay alive to the best of my ability.
I made a decision to keep physically fighting (whilst I also worked towards spiritual surrender.)
When I realised I wasn't fully choosing life, I worked with an affirmation from the Bible: I choose life.
This was important both to my survival and my recovery.


Find a suitable pastime
It may be easier said than done, but as part of CFS self help it is important to find a pastime that is not related to the Chronic Fatigue Syndrome or to seeking health, and which can be done within the limits of the illness.
I started receiving guidance in the form of poems and thought-bites.
Dictating, editing and reading these poems sustained me.
It was something that did not have to be done and did not have to be done well, so it was easier to pace myself than with many other activities.
I did not know if my spiritual poems would be seen by anyone else, but now my small book Be Loved Beloved is published on kindle.
Click to read Katherine T Owen's poems on the website.

One of the gifts of living with Severe CFS was that the spiritual journey became my priority. It continues to be my priority now I live with less severe illness.
Click here to read about Pastimes Chronic Fatigue Syndrome / ME.


Commit to feeling your feelings and expressing them safely
Whilst living with very severe CFS, my speech was limited. I also didn't have anyone I could speak to honestly about how bad things were. However, I used a dictaphone to get my thoughts out. And I used my Disability benefits to pay a typist.
Read books that nurture you
When Living with Chronic Fatigue Syndrome at such a severe level, I could read for only a few minutes at a time out of an hour.
This was still enough to work my way, over the years, through many wonderful books on psychology and spirituality.


Forgiveness Exercises - The Release
I set out to use my own forgiveness exercise of releasing judgement as a way to find the gift within problems - problems that seemed far from being gifts!!!

To sign up to receive a FREE ebook on forgiveness
by the author of this website,
and/or to keep in touch
enter your email address in the box below.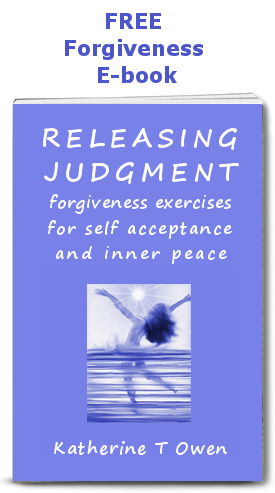 Please be totally assured that your email address will not be passed on to anyone else

Self Therapy
A commitment to looking at your shadow self
As human beings we suppress a lot of feelings, memories and hidden beliefs about ourselves. This takes energy.
When living with a severe chronic illness which leads to a lack of energy, you may find yourself becoming aware of this shadow self.
You may choose to set out to feel the feelings and bring awareness to the memories and hidden beliefs. 
Of course, it also takes energy to look at your feelings, memories and beliefs. And it is not ideal that you do so when living with CFS /M.E.. But, as you know, life is sometimes not ideal.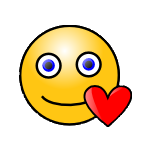 If stuff comes up, it comes up.
Long term, as part of my CFS self help, it took less energy for me to look at this stuff than to live with it.
Now I am in better health, I still have a commitment to looking at the shadow self when it makes itself known.
Each time I "embrace" the shadow, it brings healing in another area of my life and I walk on with a little more joy.

Self Therapy. The World As A Projection Of Our Thoughts
Most of my therapy has been self therapy.

Self therapy becomes an obvious possibility if you accept the belief (included in A Course In Miracles) that the world is a projection of our thoughts.

If you don't like what you see, you may choose for that to be the next "thought" you explore and work to change.
The idea that the world is a projection of our thoughts is discussed a little in the section on Do Our Beliefs Create Our Reality?
And if the idea that our beliefs create our reality is already familiar to you, some of the quotes on Are We All Atheists? may be of interest.

Go here for the definition of non duality.
Non duality is the belief that God's Love is the reality and the world is an illusion.

Please share about your journey with Spirituality and Health Challenges
Please share your experiences and your wisdom.
Let us know about any experiences you have had that let you know that you are so much more than the illness.
Let us know if illness has motivated you to pursue the spiritual journey and the rewards that have come from that.
Let us know if you have experienced healing - mental, physical, emotional, spiritual, through your spiritual practice.
What other people LIVING with illness
have contributed to the site
Click below to see contributions from other visitors to this page...

Return to the list of articles on M.E./ Chronic Fatigue Syndrome


Receive daily inspiration...
Receive daily inspiration by putting
your favorite (favourite) quote on
an item you see daily around your home-
a mug, cushion, postcard, coaster, T shirt etc.
You will find my zazzle gift store at
zazzle.com/HealingStore (USA)

Use one of my designs or start from a blank.

zazzle.co.uk/HealingStore (UK)

Thank you so much for supporting this website
www.a-spiritual-journey-of-healing.com
Katherine


My name is Katherine Owen.
Please respect my copyright as the author of this website.
I am delighted if you choose to share on social media, but please do NOT reproduce any of the contents of this page without permission.
© Katherine T Owen