I Choose Life, I Choose Blessings
I Choose Life - Choose New Thoughts To Choose Again
This choose life or death scripture has been very important to me.

"I call heaven and earth to record this day against you, that I have set before you life and death, blessing and cursing: therefore choose life, that both thou and thy seed may live:"
(Deuteronomy 30:19, KJV Bible Verse)
I was in a life threatening situation. I was rarely sure that someone would turn up to feed me. In terms of both my physical ability to sit up, chew and swallow and with limited help available, it was hard to get enough food in my body to stay alive.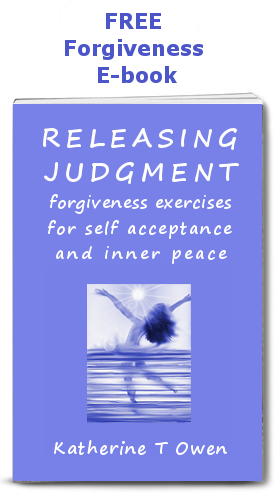 To receive Releasing Judgment, a FREE ebook
or just to keep in touch, sign in below.

Your email will definitely not be misused
and you can unsubscribe at any time.
With love, Katherine

Often I found myself thinking I might die. I replaced the thought with,
"I choose life. I choose blessings."
Often I found myself desperately trying to work out how to stay alive, I replaced the thought with,
"I choose life. I choose blessings."
Sometimes death felt like a tempting option - a chance for rest. I replaced the thought with,

"I choose life. I choose blessings."
I repeated this scripture about choosing life again and again and again.
Gradually, my world started to change.
Carers started to turn up.
They then started to turn up on time.
Then I got carers who adapted in a way that allowed me to talk, so that I had a better chance of asking for what I needed.
My survival was becoming less precarious, but I was still in a life-threatening situation. I persisted in choosing life.
Although my circumstances said this wasn't my choice... I chose to believe that as I changed the thoughts in my mind, I was giving God access to change my world.
I kept choosing life over death using this and other healing bible scriptures, and today I am happy to say that I have a life that is far safer and full of many blessings.
I wish the same for you. I really do.
The Power of The Word
Dear God help me.
Use these words to move my world to be the world you would have it be -
I choose life.
"Thy will be done on earth as it is in heaven".
Amen
If you have a hard life and you tell yourself the life you have is the life God wants you to have, then think a new thought.
In the scripture above God asks us to choose between life and death.
In Genesis, the Bible tells us that we have been given dominion over the earth.
"Let them (mankind) have dominion over the fish of the sea, and over the fowl of the air, and over the cattle, and over all the earth, and over every creeping thing that creepeth upon the earth." (Genesis 1:26, KJV Bible verse)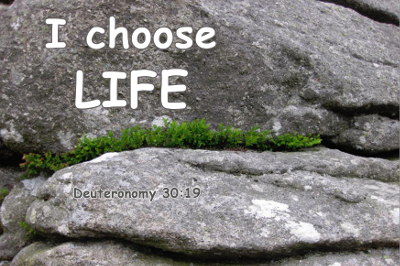 The story of Hezekiah, that you will find in these articles on scriptures on healing, tells us that a change in our thoughts changes our world.
Over and over again we are told in the Bible that our job is to pay attention to the thoughts of lack in our mind and bring them in line with the thoughts of abundance and provision God would have them be.
A Course In Miracles tells us even more clearly to take responsibility for changing the thoughts that keep God out.

Life has definitely been hard for me at times but within those hard circumstances I have had powerful experiences of the Life of God flowing through me.
The most important life is of course not the life of the body.

So please, let us keep choosing life not death. Let us choose blessing not cursing.
As we align our thoughts with God's in this way, we are helping to bring life and blessings to everyone.
Articles relevant to Choose Life

Consciously choosing life and blessings is one of many psychology self help approaches I took to live successfully with severe Chronic Fatigue Syndrome. I continue to apply these approaches today, living with illness at a less severe level.
The previous page of Scripture on Healing
Return to Contents List for Scripture On Healing
If you have thoughts of suicide, you might also want to read this wonderful article by Cindy Teevans. Sadly, her Dad committed suicide.
Please respect the author's copyright. I am delighted if you choose to share on social media, but please do NOT reproduce any of the contents of this page without permission.
© Katherine T Owen