I Am Blessed And I Am A Blessing
How To Increase Self Worth When
Living With Sickness
...I am blessed follows on from an article about choosing life when you feel you are facing death.

I Share God's Promise To Abraham - I Am Blessed
When we live with illness, it is easy to lose self worth. We may think thoughts like...
I am a nuisance

I am too much trouble
I am taking up time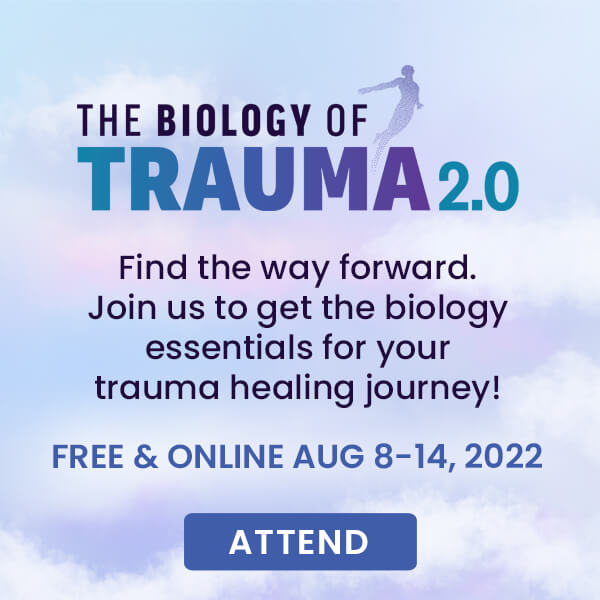 Katherine Owen, owner of HealingCFSME.com:
"It is my great pleasure to share news of this summit.
I am  a huge fan of Dr Aimie.
Trauma healing exercises are now a valuable part of my toolkit for living well with illness.
Please check it out."
Click through for pre-summit bonus gift:

The Steps to Identify and Heal Trauma eGuide Gift 
I want to do things for myself
I feel guilty I can't do things for others
Am I a bad mother, father, daughter, friend?
Whenever, I find myself thinking such thoughts of low self worth, I am willing to switch to saying the following wonderful short blessing prayer: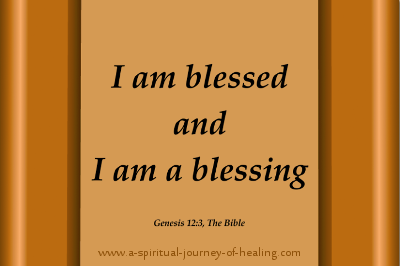 The Promise To Father Abraham

I am blessed and
I am a blessing.
Amen.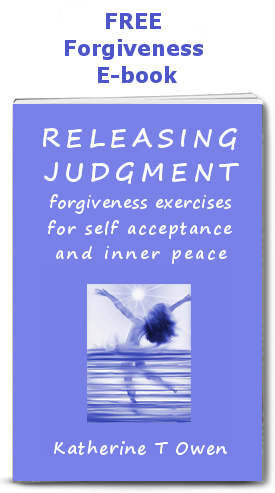 To receive Releasing Judgment, a FREE ebook
or just to keep in touch, sign in below.

Your email will definitely not be misused
and you can unsubscribe at any time.
With love, Katherine

This was a promise to Abraham from God.
Abraham is the Father of Judaism, Christianity and Islam. He lived so long ago that blood-wise we are probably all related to him.
And if we are not related in blood then we can choose to regard him as our spiritual ancestor.
We can claim his promise for ourselves.
I am blessed and
I am a blessing.
Amen.
"And I will bless them that bless thee...and in thee shall all families of the earth be blessed."
(Genesis 12:3, KJV)
"And if ye be Christ's, then are ye Abraham's seed, and heirs according to the promise."
(Galatians 3:29, KJV)
"Therefore sprang there even of one, and him as good as dead, so many as the stars of the sky in multitude, and as the sand which is by the sea shore innumerable."
(Hebrews 11:12, KJV)
Do You Want To Be a Nuisance or a Blessing?
I had been disabled with severe Myalgic Encephalomyelitis (aka CFS) for many years before I started saying this prayer. I experienced an increase in self worth.
What if all my words and thoughts are prayers?

What if I "pray without ceasing" whether I realise it or not?

What if, unless I notice and change them, many of my prayers/my words ask for things I do not want?
Do I want to be a nuisance etc?
Or do I want to be a blessing?

Let me ask for what I want.
When I catch msf saying my needs are a nuisance, I notice and switch.
I am blessed and
I am a blessing.
Thank you God.
Amen.
"So then they which be of faith are blessed with faithful Abraham."
(Galatians 3:9, KJV Bible)
How Can I Be A Blessing When I am Ill?
When I started saying this blessing prayer, I didn't know that I would get better, write books and set up a website.
When living with sickness you may feel that you are just going to get more of the same, but you don't know what the future holds.
I hope this website blesses you. I know it blesses me to write it for you.
I truly believe that wherever you are, if you open your mind to God you are blessed and you are a blessing to the world.
I look back now and I wish I had realised just how important the work of forgiveness was that I was doing. It would have helped to raise my self worth at a time when I needed it.
If this website serves to let you know that you can be a blessing in a time of illness, then I am very happy.
"How am I a blessing when I have an illness?" you may ask.
"How can I increase self worth when living with chronic sickness?"
"I have to keep telling people what my needs are."
"I can't do the things I want to do for someone I love."
You don't need to know how you are or will be a blessing.
The willingness to believe you can be a blessing opens a door to allow God to work in you and through you.
Dear God,
The willingness to believe I can be a blessing
opens a door to allow you to work in me
and through me.
I am willing.
Thank you for my useful life.
Amen
How do we ever know what is best for those around us or how things will turn out?
Through your sickness, your child, friend or parent may have an experience of serving and caring that helps them to grow spiritually and emotionally.
They may see you face a loss of self-image and yet surrender into God and receive huge spiritual gifts from the experience.
They may walk through life with less fear when they witness the love that survives any circumstance.
They may see you demonstrate an intelligent selfishness: an awareness of and willingness to communicate your own needs in a way that is best for those around you.
God, Love
This is a world of interdependency.
Maybe now I cannot escape knowing this,
but it has always been true.

I recognise this is a fallen world,
and that as long as I look to the world to meet my needs, my needs will not be met.
In your world I am completely dependent on you, and you meet all my needs.

I don't know how it's going to happen,
but I am willing to stop relying on this meaningless world to meet my needs.
I am willing to know that my real dependency is on you.


In the moment of looking to you to meet them, my needs are met and I am blessed.
Once I look to you to meet them, this is reflected in my world where my needs are also met.
With you, I am willing to be completely co-dependent.
I allow you to meet my needs.
I allow myself to know that in truth, you have already met my needs.
I am not separate from you.


I become an excellent receiver.
My ability to receive from you, is my gift to the world.
In receiving from you, I am blessed in abundance.
My receiving is a channel through which your abundant provision becomes accessible to more and more people. I am a blessing.

I receive. I receive. I receive.
Thank you. Thank you. Thank you.
Amen
How other people react to sickness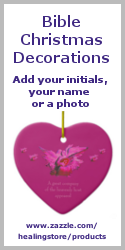 It has become clear to me that whether people are blessed or feel cursed by my living with Myalgic Encephalomyelitis depends largely on their attitude.
Many have said they are inspired by my faith, my willingness to keep positive etc.
Some use my situation to reassess what is important in their own lives.
Some grow through being willing to love me and accept the illness.
Some people saw my illness - when it was too severe to be avoidable - as an example of the unfairness of life. They hated being around it.
Some felt burdened by the sickness or simply ran away so they didn't have to witness it.
Many complained at the complications and needs of the illness. They felt sorry for themselves.
Some denied the illness (that link goes through to my website on how to live well with illness)

As we say:
I am blessed and a blessing,
we allow God access so that more and more people are blessed by us and through us.
Both in a time of illness or a time of health we can be a blessing. Why? Because we can always be a channel for God.
You Are Blessed

Since you are here, let me say to YOU:
You are blessed
and you are a blessing.
Amen

If you don't feel this is true, it is a sure sign that it is time to keep saying it :-)

Let your words call in a new world.
You are helping.
Thank you.
Other articles relevant to knowing that you are a blessing
Or click below to select from the full list of articles for Healing Scriptures

Receive daily inspiration...
Receive daily inspiration by putting
your favorite (favourite) quote on
an item you see daily around your home-
a mug, cushion, postcard, coaster, T shirt etc.
You will find my zazzle gift store at
zazzle.com/HealingStore.
Use one of my designs or start from a blank.

Thank you so much for supporting this website
www.a-spiritual-journey-of-healing.com
Katherine


My name is Katherine Owen.
Please respect my copyright as the author of this website.
I am delighted if you choose to share on social media, but please do NOT reproduce any of the contents of this page without permission.
© Katherine T Owen