The following is also below in print: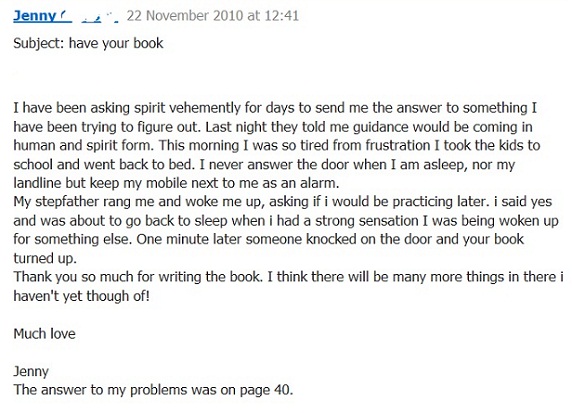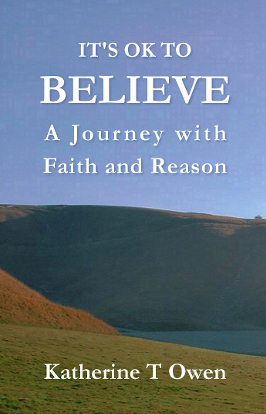 Click above to
PREVIEW or BUY
It's OK to Believe
poems on belief, faith and reason

"I have been asking spirit vehemently for days to send me the answer to something I have been trying to figure out. Last night they told me guidance would be coming in human and spirit form.
This morning, I was so tired from frustration I took the kids to school and went back to bed. I never answer the door when I am asleep, nor my landline but keep my mobile next to me as an alarm.
My stepfather rang me and woke me up, asking if I would be practicing later. I said yes and was about to go back to sleep when I had a strong sensation I was being woken up for something else. One minute later someone knocked on the door and your book turned up.
Thank you so much for writing the book. I think there will be many more things in there I haven't yet thought of!
Much love
Jenny
PS. The answer to my problems was on page 40."
"I like It's OK to Believe very much. I don't like books much, but it was left at a salon I was working at. I started to look it over several weeks later and I was unable to put it down."
Candice V posted on your Wall, Los Angeles, USA

"I bought your book then and there, and read it in short order, enjoying it very much, and being very inspired by it. I have not suffered in the same way as you have, but I have also been in great need of healing."
Hugo J, Copy of It's OK to Believe purchased in Rainbow - Swindon Christian Bookshop, Catholic

"The one page format embracing poem, release and spiritual quotation and preceding explanatory notes enables a quality of focus, encouraging one to turn the corner of a page that 'speaks'.
The excellent text combines depth of content with accessibility; it is relevant to both experienced Christians and those people who are responding to the innate need in all of us to seek.
Paul Sunners, Former Headmaster, Christian

"Dear Katherine,
Having read your wonderful book, It's OK to Believe, I have to say that I am surprised how much I enjoyed it.
As a non-believer it became apparent that one does not have to share your faith to enjoy the book. Every inspiration you write in it says something new, but knowing your history I am not the least surprised. You yourself are an inspiration. Keep smiling."
Tom Bryer, Author of Terror on the Tracks: A Rhodesian Story
"It's OK to Believe has inspired me to trust my own creative way in conjunction with ACIM.
I like the way the book delightfully 'lightens the way and brings in the permission for things to be as they are". A great book to have by my bedside.
(whoops I sound a bit like an advert don't I - but I am only just saying how it has been for me!!)"
Linda H, student of A Course In Miracles