The Hail Mary Prayer
The Hail Mary Prayer In My Life
Click through for designs by the author of this website as
My spiritual life would be poorer without having been encouraged to admire and learn from Mary's qualities of surrender and love.
On one occasion (in 2010) I had a powerful experience of the Divine whilst singing a chant of the Hail Mary - Ave Maria - an overwhelming sense of a divine motherly love. I wept.
It was a wonderfully healing experience telling me that I am not alone, and I am loved...
...and that no one is alone and all are loved.

Afterwards, I realised that I was in a church dedicated to Mary. It is a church quite near to me: St Mary's in Cricklade, Wiltshire, UK.
Since this experience I am convinced that Mary is available to help us, and to help God's love to flow through us into the world. The prayer to Our Lady has taken on greater meaning for me.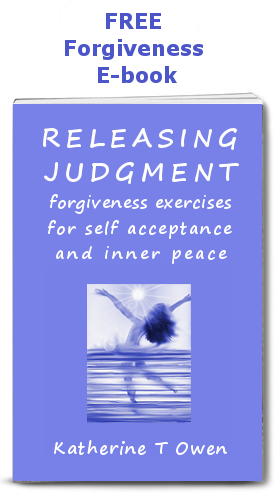 To receive Releasing Judgment, a FREE ebook
or just to keep in touch, sign in below.

Your email will definitely not be misused
and you can unsubscribe at any time.
With love, Katherine

Contents List For This Page:
1. The Words To The Hail Mary Prayer
2. Where Did The Hail Mary Prayer Originate?
3. Mary, Our Friend and Intercessor
4. A Prayer In Times Of Grief
5. Mary Inspires Us By Saying Yes to God
6. Why Don't Some Christians Say The Hail Mary Prayer?
The Words To The Hail Mary prayer
Hail Mary, full of grace,
The Lord is with thee.
Blessed art thou among women,
and blessed is the fruit of thy womb,
Jesus.
Holy Mary, Mother of God,
pray for us sinners,
now and at the hour of our death.

Amen.
If I prayed the Hail Mary prayer on my own, I used to leave out the word "sinners" as it increased my sense of being separate from God.
But now I have a much stronger sense that nothing can separate me from God, especially not a word!

Where Did The Hail Mary Prayer Originate?
The Hail Mary prayer's origins lie in the following Bible verses about an encounter between Mary and the angel Gabriel: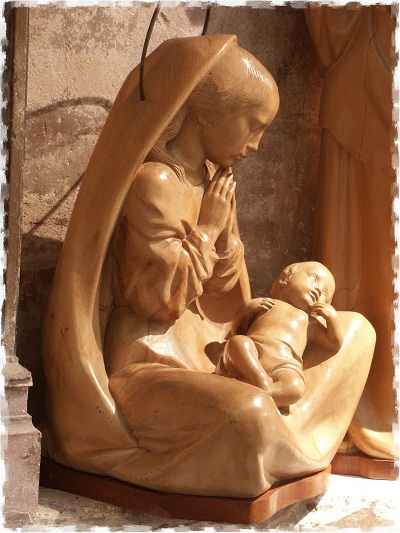 "In the sixth month, God sent the angel Gabriel to Nazareth, a town in Galilee, to a virgin pledged to be married to a man named Joseph, a descendant of David. The virgin's name was Mary.
The angel went to her and said,
"Greetings, you who are highly favoured! The Lord is with you."
Mary was greatly troubled at his words and wondered what kind of greeting this might be.
But the angel said to her,
"Do not be afraid, Mary, you have found favour with God.
You will be with child and give birth to a son, and you are to give him the name Jesus.
He will be great and will be called the Son of the Most High.
The Lord God will give him the throne of his father David, and he will reign over the house of Jacob for ever; his kingdom will never end."
(Luke 1:26-33, NIV)
"Then said Mary unto the angel, How shall this be, seeing I know not a man?
And the angel answered and said unto her, The Holy Ghost shall come upon thee, and the power of the Highest shall overshadow thee: therefore also that holy thing which shall be born of thee shall be called the Son of God.
And, behold, thy cousin Elisabeth, she hath also conceived a son in her old age: and this is the sixth month with her, who was called barren.
For with God nothing shall be impossible.
And Mary said, Behold the handmaid of the Lord; be it unto me according to thy word. And the angel departed from her."

(Luke 1:34-38, KJV e-sword)
Mary, Our Friend and Intercessor
This prayer to Our Lady is one of the most common catholic prayers.
In the Catholic tradition and some other Christian denominations, those who have passed on are believed to be available to pray for us.
The Hail Mary prayer calls on Mary to be our intercessor – one we can ask for help and prayer, just as we might ask any other friend.
A Prayer In Times Of Grief
Mary is an inspiration. A mother who watched her son die and yet maintained her faith in God.
When Jesus' parents took him as a baby to be dedicated in the temple, the following was prophesied about Mary:
"A sword will pierce your own soul too – so that the secret thoughts of many may be laid bare."
(Luke 2:35, Jerusalem)
People find it particularly helpful to call on Mary for help in times of trouble, or times where they need a mother's love or in times when they feel a mother's pain at the loss or suffering of her child.
Millions of people find Mary a powerful source of love and guidance in their life.
In the last 3 months, I have had contact with 3 people who had received no religious training in praying to Mary and yet had felt guided to ask for her help and have received comfort. Mary is available to all who ask.
Mary Inspires Us By Saying Yes to God
You Are Blessed
To join with Gabriel in
saying of Mary:
You are blessed,
Is to shift your focus from
all you do
or would possess
within the world,
to valuing the idea of
reaching the place where
you simply say Yes
to God.
It's OK to say 'Yes' to God because you trust He is far more capable than you of knowing what leads to your happiness and fulfilment.

"I am the Lord's servant," Mary answered. "May it be to me as you have said."
(Luke 1:38, NIV)
© Katherine T Owen.

This spiritual poem appears in the upcoming book Through Diversity To Unity by the author of this website.

Click on the book cover for a FREE ebook on releasing judgement, explaining the statement starting It's OK to... 

Click through for a discussion on how to use spiritual quotes.
Mary's strength lies in her surrender to God.
Our strength lies in doing the same.
Why Don't Some Christians Say The Hail Mary Prayer?
When the Church split in the UK at the time of the reformation, one of the changes in the new church was to let go of the emphasis on Mary.
Although there has been a shift back in recent years, the prejudice against asking Mary to intercede in prayer remains in some of the Christian denominations.
In some Christian denominations, it is not believed that anyone other than Jesus is available after death, so naturally this prayer would not be used.
If you are interested in the prayer, and yet you are concerned about saying it, please pray about it, and ask for guidance.

And an image of the words to the Hail Mary for anyone wanting to pin it!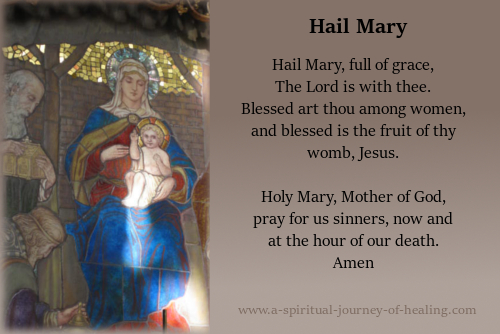 ---
Articles relevant to the prayer to Our Lady

Visit my colleague's site for Quotes on Blessings (www.jonathanlockwoodhuie.com/quotes/blessings/)
Move from The Hail Mary Prayer to see a full list of prayers on this website.
Please respect the author's copyright. I am delighted if you choose to share on social media, but please do NOT reproduce any of the contents of this page without permission.
© Katherine T Owen