Chronic Fatigue Syndrome
Symptoms Can Be Severe
If you are interested in a personal story of the severe Chronic Fatigue Syndrome symptoms which put me in a life-threatening situation then this CFS article is for you.
If you would like a list of the key CFS symptoms necessary for diagnosis, along with conditions that are sometimes missed when CFS is diagnosed, then please click though on the link above to visit my other website.

This article is not recommended for those who are newly diagnosed as it is about severe Chronic Fatigue Syndrome. It is for those who need validation of how serious CFS can be.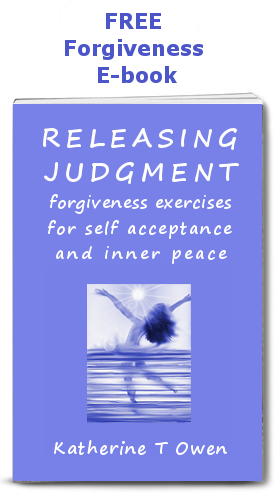 To receive Releasing Judgment, a FREE ebook
or just to keep in touch, sign in below.

Your email will definitely not be misused
and you can unsubscribe at any time.
With love, Katherine

CFS symptoms can be life-threatening
Has anyone died of Chronic Fatigue Syndrome?
Can Chronic Fatigue Syndrome (CFS) cause death or lead to death?
Yes, although it is extremely rare. It was given as the cause of death in the case of Sophia Mirza in the UK- a case which involved Severe CFS/ME combined with severe mistreatment by the authorities.
2.4.18 The death of Merryn Crofts was reported in the media.
Merryn died on May 23 2017, shortly after her 21st birthday.
Read more at http://stonebird.co.uk/merryn/index.htm
In the magazines that support those with Chronic Fatigue Syndrome/M.E, news of suicides or death by other health complications are also fairly common.
Note the case of Lynn Gilderdale in the UK. She had had Severe CFS/ME for 17 years at the time when she committed suicide. It made the news as a case of assisted suicide. In order to die she required the cooperation of her mother Kay Gilderdale.

CFS Support and Care:
Surviving CFS Can Be Difficult
As many people with Severe CFS/ME will know, surviving can be difficult in terms of getting the support and care necessary to stay alive. And severe CFS/ME is indeed life-threatening.
For example, someone's physical ability can drop beneath a level where the person can feed themselves and has trouble being fed. This was true for me.
For other people, their immune system may stop being able to tolerate food. This too can be life-threatening.


My Personal Story: Severe Chronic Fatigue Syndrome Symptoms Left Me Fighting To Survive
Which Chronic Fatigue Syndrome symptoms and life circumstances made the CFS/ME life-threatening for me?
I had reactive hypoglycaemia. I had to eat something every few hours. If not, I would get dizzy, confused, weepy. I could pass out.
Due to muscle fatigue I was unable to feed myself anything other than some snacks by the bed.
I was unable to walk to the kitchen to get food.
I was dependent on council carers. I never knew for sure if or when a carer would turn up.
When a carer was there, care time was tight. It often required me to have great organisational skills and managerial skills to see that I got enough food and that the carer left food and water by the bed. As you can imagine such skills did not come easily with brain fog and severe cognitive difficulties.
I had little speech to ask for what I needed. Over many years, one sentence at a time, I wrote up a good care routine. However few carers took the time to read it.
I had severe Multiple Chemical Sensitivities (MCS). If a carer wore perfume, the effect on my brain function made it excruciatingly difficult to open and close my mouth to be fed. I suffered temporary paralysis. It was hard to find anyone who would give up perfume in order to help me.
I know that some of you will know what I am talking about when I say life was a constant fight to get enough food into my body to stay alive.
CFS and weight: I went down to 7 Stone (44kg) and fought hard to raise my weight.
The situation was life-threatening because I had severe Chronic Fatigue Syndrome symptoms without the care to ensure my safety.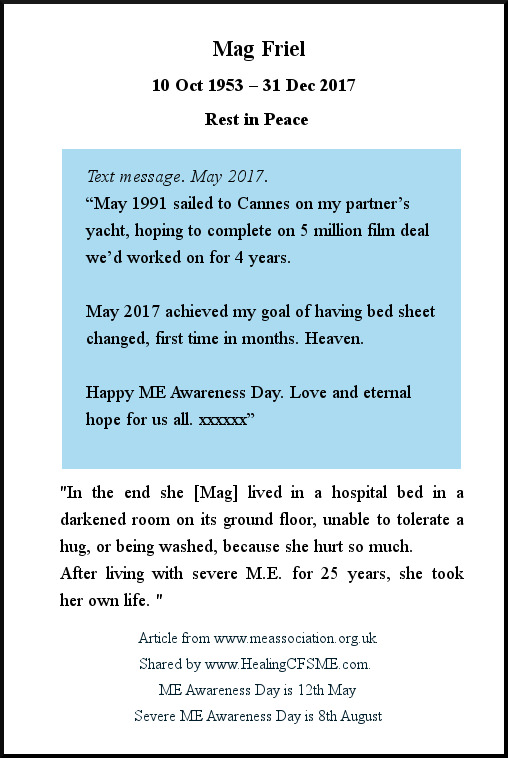 I have been there. Significant recovery from severe Chronic Fatigue Syndrome is possible.
If you feel disheartened by this CFS article, please remember that your circumstances may be better than my own.
The advice for Chronic Fatigue Syndrome / ME is to rest. If you are managing to rest whilst keeping your body and mind as active as possible then the healing process is taking place. Many people recover naturally in the course of time.
Many people with CFS/ME never go on to develop severe Chronic Fatigue Syndrome symptoms.


Who is most likely to develop severe CFS?
Those people who do not have an early CFS/ME diagnosis and do not rest in the early stages are more likely to go on to get severely ill.
But if those factors apply to you, and even if you also are in a situation where your circumstances do not allow you to rest, please remember that this is a page on a website of someone who recovered from severe Chronic Fatigue Syndrome to live life at a far easier level.
Improvement and even recovery are also possible for you.


CFS/ME Recovery: Yes, but I have different Chronic Fatigue Syndrome Symptoms!
Recovery from CFS/ME may seem like a dream to you now. You may be thinking of various reasons why my advice won't help you:
This woman is not being realistic,
...perhaps she wasn't as ill as me,
...perhaps she is different from me in some way,
...perhaps she had more help than I have.



I Validate The Pain of Chronic Fatigue Syndrome /ME
This CFS article is not typical of this website. This website very much focuses on the possibility of LIFE within CFS/ME and the possibility of recovery from CFS/ME.
I also talk about the ultimate "unreality" of illness and how you can cultivate this and various other beliefs to encourage healing to take place.
But I don't want you to take this positivity to mean that I do not take the symptoms of Chronic Fatigue Syndrome /ME seriously. I, of all people, take them very seriously indeed.
Illness/death/the body are definitely real to us on this level of reality.

So this article has the aim of sharing something of the chronic fatigue syndrome symptoms I had, and how difficult my life situation was. I validate the pain, the difficulty, and the courage of those living with Severe CFS/ME and other chronic illness.
If you are living with CFS symptoms day after day, you have my admiration. Please know that you are not alone.

Postive Words To All Those Living With Chronic Fatigue Syndrome /ME
It took courage to face up to how ill I was. I needed to do so to motivate myself to take the steps to stay alive.
It took courage to face up to how difficult my situation was. How can we give ourselves credit for survival if we pretend it is easy?
Other people in your life may be in denial about your being ill with CFS/ME. They may not be able to support you right now in facing up to the seriousness of the illness.
I needed help to face up to illness. So I am here now to say to you:

Positive Words To Those Living With CFS
Well done for being willing to know that you have an illness.
Well done for being willing to take CFS/ME seriously.
Well done for taking the steps you need to take to adjust your life in order to survive and find LIFE whilst living with chronic illness.

Well done for having survived to the point where you are here reading this.
It is so great that you are seeking information, validation and  understanding of the illness.

And - if you have Severe CFS/ME and cannot sit at a computer -  well done for having the willingness to receive the help of another and the determination to read this print-out or have it read to you.



Recommended Links
Chronic Fatigue Syndrome symptoms can overlap with the symptoms of thyroid deficiency which can be treated. Go here to take the Quiz: Do I have a thyroid problem
Other Articles on a-spiritual-journey-of-healing.com relevant to Chronic Fatigue Syndrome Symptoms:

Most articles on this site give advice on living with chronic illness and on Chronic Fatigue Syndrome recovery, so have a look around.
Move From Chronic Fatigue Syndrome Symptoms Can Be Life-Threatening back to Living With CFS/ ME
Please respect the author's copyright. I am delighted if you choose to share on social media, but please do NOT reproduce any of the contents of this page without permission.
© Katherine T Owen