Scriptures on Healing -


I Am Healed Scriptures

True Healing: I am Blessed by a stronger relationship with God
Continued from Article 6 of Scriptures on Healing
The bible story of the one leper who came back:
"One of them [a leper], when he saw he was healed, came back, praising God in a loud voice. He threw himself at Jesus' feet and thanked him—and he was a Samaritan.
Jesus asked,
"Were not all ten cleansed?
Where are the other nine?
Was no-one found to return and give praise to God except this foreigner?"
Then he said to him,
"Rise and go; your faith has made you well."
(Luke 17:15-19, NIV, I am healed scripture)
For me the implication of this healing Bible verse is that when we receive physical healing without strengthening our relationship with God, we have missed out on the only true blessing that healing can bring.
I love the phrase that Kenneth Copeland uses in his healing ministry:
"I am not blessed because I am healed.
I am healed because I am blessed."

(Click to go through to read an I am blessed bible verse)

"Does this mean that if you are not healed, you are not blessed?"
My goodness, NO!
Illness has no power whatsover to separate us from God. We are One.
I am blessed, you are blessed, we are all blessed.
What it may mean is that you may not know you are blessed;
you may not have accepted that blessing;
you may need to practise resting in that blessing....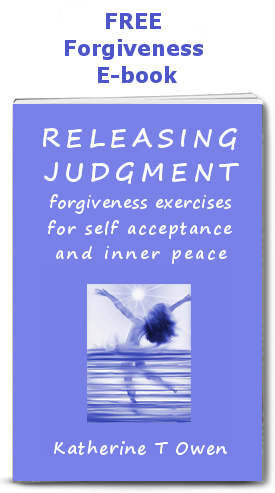 To receive Releasing Judgment, a FREE ebook
or just to keep in touch, sign in below.

Your email will definitely not be misused
and you can unsubscribe at any time.
With love, Katherine

...Although I am writing here about how to claim your healing by faith, please know that the relationship I have found with God is far more important to me than my physical health.
Whatever state of health you are in, you are blessed. Knowing this is more important than physical healing. If you know that, even a little, you are rich.
To paraphrase A Course In Miracles, the important thing is to wake up, not to create a really comfortable dream for ourselves.
Return to List of Healing Scriptures
How Do I Practise Believing
'I am Healed'?
Imagine how you would feel if you were healed right now.
What would you do? – Picture yourself doing it.
What would you see? – Imagine seeing it.
What would you hear? – Imagine hearing it.

Do you sometimes imagine how ill you will feel if you do something?
Do you sometimes imagine getting more ill or even dying?
I know I did. It is natural to do so.
But we are not concerned here with doing what is natural to the world; we are learning to do something that is unnatural to the world so as to see a different result.


So What Do These Scriptures on Healing Tell Us About How To Heal?
The scriptures on healing on this and earlier pages can really help you to claim the words 'I am healed' as a reality.
So what can we do to raise our faith for healing?
We bring ourselves to Jesus. We ask for healing.
We believe Jesus wants to heal us.
We believe Jesus is available to heal us.
If we don't believe these things, that is OK. It is entirely normal. When we live with chronic longterm illness our society doesn't teach us that we can be healed.
If we want to believe them, then...
We identify our doubt when it comes up.


We look at the list of healing beliefs on the contents page and find the healing Bible verse that replaces the doubt we have with the faith we need.


We confess these scriptures over our life, and hold a place for our vision of 'I am healed'.

Thank You
Can I say it has been such a pleasure writing these articles on faith healing for you.
Many of the promises in these scriptures on healing have been manifest in my life. I am so grateful, and so aware that I still need these healing Bible verses to grow my mustard seed faith, both on my own behalf and on behalf of others.
Thank you for reading these scriptures on healing.
As you claim these bible verses over your life, may they bless you as they have blessed me.
Click here for the home page - How To Deepen Our Spirituality
Receive daily inspiration...
Receive daily inspiration by putting
your favorite (favourite) quote on
an item you see daily around your home-
a mug, cushion, postcard, coaster, T shirt etc.
You will find my zazzle gift store at
zazzle.com/HealingStore.
Use one of my designs or start from a blank.

Thank you so much for supporting this website
www.a-spiritual-journey-of-healing.com
Katherine


My name is Katherine Owen.
Please respect my copyright as the author of this website.
I am delighted if you choose to share on social media, but please do NOT reproduce any of the contents of this page without permission.
© Katherine T Owen