CFS Relaxation Techniques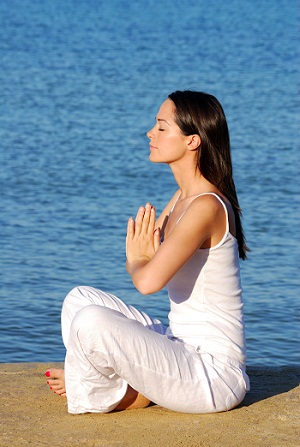 Contents List For This Page On ME/ CFS Relaxation:
Finding Peace Of Mind Through Relaxation Techniques, Meditation Etc
Relaxation CDs for Chronic Illnesses
Finding Peace Of Mind
Through CFS Relaxation Techniques, Meditation Etc
Some people with Chronic Fatigue Syndrome sleep a lot. Many (how it was for me) have trouble sleeping at all, and have a mind that keeps constantly active.
I find CFS relaxation techniques and meditation essential, so that when I am lying still I am as relaxed as possible.
(This may not be a very appropriate photo if you are not able to sit up, but I am including it as I find it very restful!)



Relaxations CDs for Chronic Fatigue Syndrome and other Chronic Illness
I highly recommend relaxation CDs for those with chronic illness, especially an illness like Chronic Fatigue Syndrome (M.E.) where you are forced to be still for periods of time.
In spite of exhaustion and pain, the last thing I wanted to do was stay still. When I stopped, I was more aware of the symptoms.
I was very restricted by the symptoms as to how much I could listen to the radio or music, so I couldn't do much of that.
I needed help to rest. Relaxation CDs gave me that help.
My brain was able to tolerate and enjoy them.
They broke the silence and provided a sense of company.
CFS Relaxation CDs continue to help me rest at the higher level I am at today.
Often I am not disciplined at listening to and following the instructions, but even the noise of a relaxation CD in the background is soothing and does me good.



Some CFS relaxation CDs and tapes I find useful:
None of the relaxation CDs listed here are specific to those living with Chronic Fatigue Syndrome but they are the ones which help me.
Qigong CD
I listened to a Qigong CD (mentioned on this page) probably three times a day for many years. It was one of the few tapes that consistently helped me to relax. Follow the link above to find out more about Qigong Energy healing.


Diane Lampen tapes
Diane has such compassion in her voice. Many of my wonderful relaxation and visualisation tapes were by Americans, so it was also nice for me to have a chance to hear a British voice. (Most of my carers were from other countries, and I did miss my own culture.)
Relaxation CDs or tapes are available by post only, and at a very reasonable price.
The ME/ CFS relaxation tapes I bought and can therefore recommend are as follows. But there are many more available than when I ordered, and many of them look wonderful. Follow the link above to find out more about Diane Lampen's tapes.
(Once on her site, go to The Yoga tape list to see what is on offer. Or follow the link to listen to a sample track.) Diane is a Christian - a Quaker.
The comments below are Diane Lampen's own.
"RELAXATION TAPES: Tape one (A1) * Tape two (A2) * Tape three [no preliminary exercises] (A3)
Tape A1 gives you some easing and stretching, and takes you through the relaxation process in detail; A2 has less introduction and a longer relaxation with music; A3 has no preliminary exercises; there is visualization and music.
Guided Meditations (H)
10 different meditative practices including visualizations to bring you towards your inner peace.
Meditation and Prayer [four 20 minute stilling practices] (I)
For those who want to meditate but don't know how to start, this tape is a practical, easy, step-by-step training in reaching the deep stillness needed for meditation.
A Gentle Tape for those with M.E. [Chronic Fatigue Syndrome] (U1) and M.E.follow-on tape (U2)
Made at the suggestion of pupils with M.E. and with their help. This tape, with its very gentle easing out and its deep relaxation, is far and away my most popular tape. Hundreds have been purchased, and many appreciative letters received."



Yoga Nidra Meditation CD and tape
A Yoga Nidra meditation consists of shifting focus to different areas of the body. Often when we are ill – whether with Chronic Fatigue Syndrome or something else, we can try to avoid thinking about the body. We don't succeed as our symptoms act as a frequent or constant reminder, and what happens is that we notice the pain and not the parts of us that may feel OK.
Focusing on the body can actually help us to detach from the distress in the mind, and get in touch with the peace behind the distress. I was so surprised that this worked. By focusing on the body, somehow we can remember that we are more than the body.
Though it is not the one I used, there is a yoga nidra meditation CD offered by Diane Lampen – see the link above.

Relaxation And Resting
Please share your tips on relaxation.

What works for you?
What doesn't work for you?
How do you feel about resting?
How have you learned to rest better?
What Other Visitors Have Said
Click below to see contributions from other visitors to this page...

Click here for the next ME/CFS article -
Pastimes for how to live with Chronic Fatigue Syndrome / M.E.

If you are learning to rest, you may be interested in the following pages:
Click here to return to Contents List for these pages on Living With ME/CFS


Move from CFS Relaxation to Recovery from CFS/ME for techniques which contributed both to my survival within and my recovery from severe CFS.


Receive daily inspiration...
Receive daily inspiration by putting
your favorite (favourite) quote on
an item you see daily around your home-
a mug, cushion, postcard, coaster, T shirt etc.
You will find my zazzle gift store at
zazzle.com/HealingStore (USA)

Use one of my designs or start from a blank.

zazzle.co.uk/HealingStore (UK)

Thank you so much for supporting this website
www.a-spiritual-journey-of-healing.com
Katherine


My name is Katherine Owen.
Please respect my copyright as the author of this website.
I am delighted if you choose to share on social media, but please do NOT reproduce any of the contents of this page without permission.
© Katherine T Owen