Are You a Swindon Poet?

...Continues from Interviews by Swindon Poet Katherine T Owen


Poetry in Swindon 

Prior to the covid pandemic, Poetry Swindon (formerly BlueGate poets) was a thriving poetry society.
Closed groups of poets continue to meet in the town.
However, at the time when I return to update this page, there seems to a lull in public events.
To find out what is happening in the areas of poetry and literature this page shares the best sources I can currently provide.
Contents for Swindon Poet Page

Pre pandemic Poetry in Swindon (see above)

Swindon Writers. Information about groups.

Online Poetry, enjoyed by Swindon poets amongst others
Poets and Poetry located near to Swindon
Published Swindon poets
Swindon spoken word poetry
Malmesbury Poets published
Swindon writers, non poetry
*   Swindon novelists
*   Swindon Writers, non-fiction
Swindon Freelance writer for hire
Novel set in Swindon
Past events by Swindon Poet Katherine T Owen
Swindon Writers

Updated in April 2022

Lower Shaw Farm, Swindon

Matt Holland is the inspiration (and hard work) behind the Swindon Literature Festival. He sends out a monthly Artswords email on all things literary in Swindon. These include a writer's cafe.
The excellent and enthusiastic Swindon Literature Festival takes place in May each year.
Richard Jefferies Museum
Richard Jefferies is a writer who lived in Swindon.
Literary and poetic events have previously taken place at the museum.
The organisers may be able to put you in touch with any current events.
It is worth checking out in any case for a cup of tea on a Sunday.
Swindon Central Library
The library hosts literature events on a regular basis.

Joy Wodhams
When last I checked, the Swindon author Joy Wodhams was running a writer's group in Chiseldon. You can find her via facebook.
Online Poetry, enjoyed by Swindon poets amongst others

Dawn Gorman lives in Bradford on Avon.
She hosts a radio show and runs a poetry critique course.
She will no doubt run live events again in the future.

Sarah Dixon has been a volunteer at the Swindon Fest poetry Festival in the past.
Sarah is now online as The Quiet Compere, running workshops, and hosting events.
Poets and Poetry near to Swindon
Some of the following poets have run physical events in the past. These are within driving distance of Swindon. They may also be active online. They are all published poets.
Sharon Larkin, Cheltenham
Sue Boyle, Bath
Rosie Jackson, Frome

Published Swindon poets
Published Swindon poets include the following
Jill Sharp
Katherine T Owen (myself)
Cristina Navazo-Eguía Newton
Bethany Pope, lived in Swindon for a while
Em Harri, lived in perhaps raised in Swindon

John Richardson (aka Jay Arr)
Hilda Sheehan
Maurice Spillaine
Catherine Okoronkwo (Marks)
David Cooke (David runs an online poetry website, the High window)
Stephen Daniels
Chaucer Cameron
Tony Hillier
David Lukens
Andrew Barber
Anna May Laugher – she liked the Swindon poetry scene so much, she moved to live here.
All the above are modern day poets.
Alfred Williams, Hammerman Poet (1877-1930), Life in a Railway Factory and many other volumes

The following Swindon poets do not, as far as I know have books or pamphlets published:

The following three Swindon poets are published in many anthologies. And have peformed as part of collectives at various poetry readings. I am unsure if they have poetry pamphlets available.
Janice Booth,
Elinor Brooks
Teresa Davey
Mark Farley. Winner of the Bridport, an illustrious poetry prize.
Shaun Butler. Organised a poetry event for the Swindon poetry Festival. Has presented spiritual poetry programs on Flame FM.
Edalia Day
Does their own unique poetry/theatre combo thing. From Swindon, though sadly no longer resident here. ww.edaliaday.co.uk

Christine Tipper
A successful translator of Spanish and French poetry into English, (Also the author of children's books).
Michael Scott

Iris Anne Lewis
Founder of the poetry group Wordbrew.
Miles Deacon, runs a poetry blog

Apologies to any Swindon poets with pamphlets I have missed out!
Swindon spoken word poetry

In recent years, there has been a thriving spoken word poetry scene in Swindon. It is also featured as an event in the annual Swindon Literature Festival.
Again I'm not sure how it's been affected by the Covid pandemic.
Clive Boseman and Nick Lovell run Ooh Beehive which had gone online.
Rusty Goat poetry. Rusty goat can be found on Facebook.
In the past Rusty Goat have hosted events at TWIGS garden centre. As well as in central Swindon.
It tends to feature surivor poetry.

Malmesbury Poets published

Matthew Oates

Sue Chadd
Phil Kirkby (Tewkesbury)
Jonathan Bryan
Sunday Times bestseller as writer of Eye Can Write)
Swindon writers, non poetry
Related to all things literature, I thought I'd mention other Swindon writers. Please do further research to look at the details and titles of their books or other works.
This list is a little rushed and random. There are no doubt many other Swindon writers!
Swindon screenwriter

Billy Piper, Screenwriter of Rare Beasts

Swindon novelists
Angela James, The Golden Moonbeam trilogy.
Phil Givin, Truth Sister
Tom Bryer
Joy Wodhams
Margaret Bacon
Swindon Comicbook

Episodic, urban fantasy webcomic Spare Keys for Strange Doors, Lucy Lyall.
Swindon Writers, non-fiction
Desmond Morris, the anthropologist and author, born in Swindon
Melinda Messenger, Family Cookbook

Jackie Habgood, diet books
Mike Pringle, war related

Rosa Marie Matheson, writes about the history of the Swindon railways
Angela Atkinson, Secret Swindon
Ellen Watts, Cosmic Ordering Made Easier
Elaine Godley, writes about cancer survival. Used to live close to Swindon.
Rosa Marie Matheson, A Day in the Life of... 100 women in Britain. The book raises money for Tibetan orphanage.
Mandy Thomas, Memoir about domestic abuse. You Can't Run. Published by Penguin Random House
Swindon Freelance writer for hire
Juliet Platt
Novel set in Swindon
Mark Haddon's novel, The Curious Incident of the Dog in the Night-Time
Past events by Swindon Poet Katherine T Owen

This article originally served to feature some of my own appearances as a Swindon poet. I have left them here for now.

          Interview on the Art to Art Show, Swindon 105 (scroll down)

Interview on the Art to Art Show, Swindon 105.5
This show was broadcast on 18 October 2009. It is an hour-long pre-recorded interview with Katherine by the presenter, Andrew Brewerton.
Swindon poet, Katherine T Owen, talks about illness, recovery and spirituality and reads poems on living through and coming out of difficult times.
This was Katherine's first interview and she spends about 5 minutes in deep laughter.
The show has such an air of celebration, much helped by the glorious and appropriate music, with tracks such as Amazing Grace and What a Wonderful World.
What the radio presenters said:

Andrew Brewerton: It's a very interesting interview, some lovely poems and a fair amount of laughter, which I guess I should have chopped out but you can't beat a nice bit of laughter.
Andrew: ...She's a lovely lady and it's a great interview and a pleasure to have her here on the art to art show.
Merlina Waterworth, the co-presenter who had listened in: That was pretty amazing, I was especially moved by one poem...Very impressive...an amazing laugh.
Andrew: A lady to look out for. We can only finish the show off with one song and that's What A Wonderful World by Louis Armstrong.
[Katherine T Owen], you have made our world a wonderful place, your poetry is great. We look forward to having you back on the art to art show.
(A tape of the show was made, but is not currently available on this site.)
---
Illustrate Your Point - Swindon Festival Art and Poetry
OPENING NIGHT: Saturday 1st May 2010. This exhibition was on display throughout the whole of May at the Swindon Arts Centre.
From the press release by Maria Hologhan, artist:
"Illustrate Your Point' is an exciting, fascinating, and special collaboration between 13 Swindon artists, members of Artsite; and 13 Swindon poets, members of BlueGate Poets.

They have worked together in pairs, to produce art inspired by poetry and poems inspired by art.

The exhibition will incorporate some of the finest contemporary painting, sculpture, textile art, drawing and poetry that Swindon has to offer.

Presented in association with Artsite, BlueGate Poets, Artswords, and the Swindon Festival of Literature."
Below, on the wall of Swindon Arts Centre, are the picture and poem resulting from the collaboration between Katherine T Owen and Tracey Baker-Stuart. Katherine is on the left and Tracey on the right.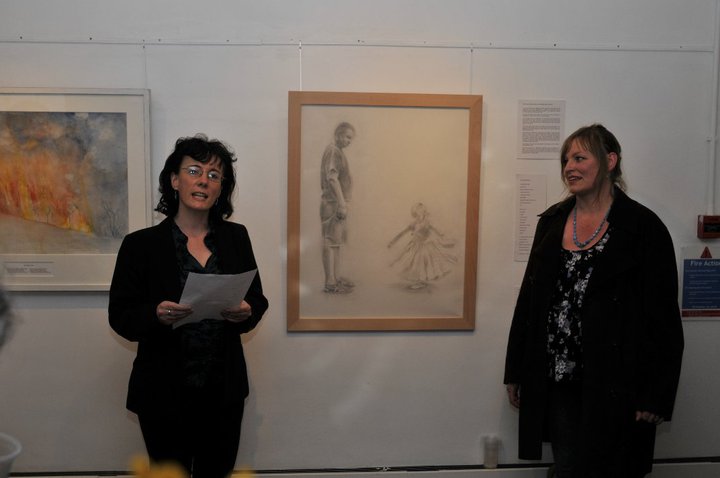 Poetry Blog - The Performance Of The Swindon Poet Group In Bath
BlueGate Poets In Bath

Sunday, February 27, 2011, by Crysse Morrison, Bath Poet
Voices in the City is the collective name for spoken word in Bath Literature Festival...
I was a brief drop-in, but managed to catch a superb set by BlueGate Poets from Swindon. Travellers without Baggage is the name of an anthology they have been working from, and their presentation combined some of the original poems by Valerie Clarke with their own responses and was both lyrical and moving.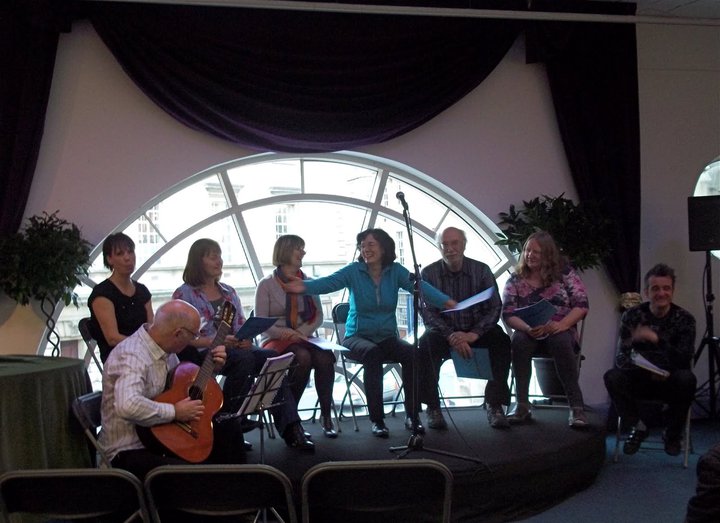 Travellers without Baggage is an Arts Council funded project.
The set was also performed at Cheltenham Literature Festival, UK – and Swindon Lit Festival, UK.
Original music was provided by the musician and Wiltshire artist, Stevie Gilmore.
Wroughton Prospect Hospice Fundraiser
August 21st 2011

Ian James Cabaret Evening - Wroughton Prospect Hospice Fundraiser
I was delighted to read one of my poems during this evening in memory of the pianist Ian James.
The tone of the evening was perfect - poignant at times, but very much a celebration of Ian's life, his love of his music and his intention to help the hospice.
I am sure that many there were feeling so sad at his absence, but they put on  a brave face and the evening was truly rich.
I live in Wroughton so it was a particular joy to be part of an evening to raise funds for the Prospect Hospice.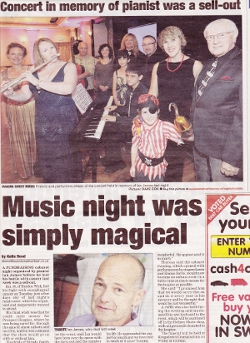 Move from Swindon Poet to listen to and watch some interviews with Katherine T Owen.

Receive daily inspiration...
Receive daily inspiration by putting
your favorite (favourite) quote on
an item you see daily around your home-
a mug, cushion, postcard, coaster, T shirt etc.
You will find my zazzle gift store at
zazzle.com/HealingStore (USA)

Use one of my designs or start from a blank.

zazzle.co.uk/HealingStore (UK)

Thank you so much for supporting this website
www.a-spiritual-journey-of-healing.com
Katherine


My name is Katherine Owen.
Please respect my copyright as the author of this website.
I am delighted if you choose to share on social media, but please do NOT reproduce any of the contents of this page without permission.
© Katherine T Owen