Are You a Swindon Poet?

...Continues from Interviews by Swindon Poet Katherine T Owen


Poetry in Swindon 

Poetry Swindon (formerly BlueGate poets) are the excellent Swindon poetry society. They welcome to their events poets, aspiring poets, and those who love to listen to poetry in all its different forms.
Guest poets come from far and wide and our audience often includes poets from Reading, Bath and further afield.

Below you will also find information if you are a Swindon writer seeking to connect with other writers for feedback and inspiration.

Poetry Swindon's activities include:
Poetry open mic in Swindon, UK. Second Sunday of every month. As at May 2016, this is usually held at the Sun Inn in the back room. 7.30pm for an 8pm start. (Apologies if the details have since changed).

Regular workshops are available at a discount to the membership.


The

Swindon Festival of Poetry takes place in October - in its 4th year in 2016.

Guest appearances by Swindon poets in other UK Poetry venues, both by individual members and in prepared sets.

Our Poetry Swindon website has changed several times, so I am giving up for now on providing links!
Please do a search for Poetry Swindon to find the website. Or contact me (Katherine T Owen) if needed to find out more. There is also a facebook page.

Pulsar events is another excellent promoter of poetry in Swindon - albeit on a less regular basis. Youtube recordings are available. And if you are interested in attending Pulsar events, please go to www.pulsarpoetry.com.
Swindon Poetry Festival takes place in October each year.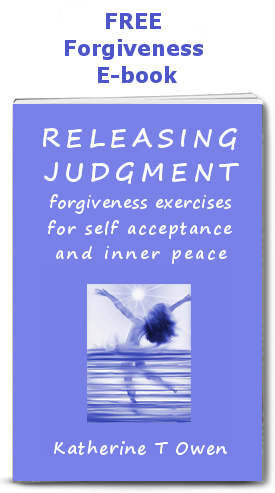 To receive Releasing Judgment, a FREE ebook
or just to keep in touch, sign in below.

Your email will definitely not be misused
and you can unsubscribe at any time.
With love, Katherine

Swindon Writers

There is a monthly Swindon writers' cafe held on the last Thursday of the month at Lower Shaw Farm. You can ask at the email address on the above website to receive a monthly email on writer's events in Swindon.

A life-writing group is run twice a week on Tuesday and Thursday.
Contact Jill Sharp for details.

jill at sharppractice dot wanadoo dot co dot uk
The excellent and enthusiastic Swindon Literature Festival takes place in May each year.
Great Western Writers' Network (GWWN) seeks to connect Swindon writers with those in the area who can help them get their writing out there - mentors, tutors, proof-readers, editors, illustrators, printers, publishers.
Currently on facebook. Blog to come.
Contents List for this page:
The rest of this page shares some of the appearances in Swindon - not up to date! - by Swindon Poet Katherine T Owen.
It also gives you a little insight into the thriving poetry scene in Swindon, Wiltshire, UK.

Interview on the Art to Art Show, Swindon 105.5
This show was broadcast on 18 October 2009. It is an hour-long pre-recorded interview with Katherine by the presenter, Andrew Brewerton.
Swindon poet, Katherine T Owen, talks about illness, recovery and spirituality and reads poems on living through and coming out of difficult times.
This was Katherine's first interview and she spends about 5 minutes in deep laughter.
The show has such an air of celebration, much helped by the glorious and appropriate music, with tracks such as Amazing Grace and What a Wonderful World.
What the radio presenters said:

Andrew Brewerton: It's a very interesting interview, some lovely poems and a fair amount of laughter, which I guess I should have chopped out but you can't beat a nice bit of laughter.
Andrew: ...She's a lovely lady and it's a great interview and a pleasure to have her here on the art to art show.
Merlina Waterworth, the co-presenter who had listened in: That was pretty amazing, I was especially moved by one poem...Very impressive...an amazing laugh.
Andrew: A lady to look out for. We can only finish the show off with one song and that's What A Wonderful World by Louis Armstrong.
[Katherine T Owen], you have made our world a wonderful place, your poetry is great. We look forward to having you back on the art to art show.
(A tape of the show was made, but is not currently available on this site.)
---
Illustrate Your Point - Swindon Festival Art and Poetry
OPENING NIGHT: Saturday 1st May 2010. This exhibition was on display throughout the whole of May at the Swindon Arts Centre.
From the press release by Maria Hologhan, artist:
"Illustrate Your Point' is an exciting, fascinating, and special collaboration between 13 Swindon artists, members of Artsite; and 13 Swindon poets, members of BlueGate Poets.

They have worked together in pairs, to produce art inspired by poetry and poems inspired by art.

The exhibition will incorporate some of the finest contemporary painting, sculpture, textile art, drawing and poetry that Swindon has to offer.

Presented in association with Artsite, BlueGate Poets, Artswords, and the Swindon Festival of Literature."
Below, on the wall of Swindon Arts Centre, are the picture and poem resulting from the collaboration between Katherine T Owen and Tracey Baker-Stuart. Katherine is on the left and Tracey on the right.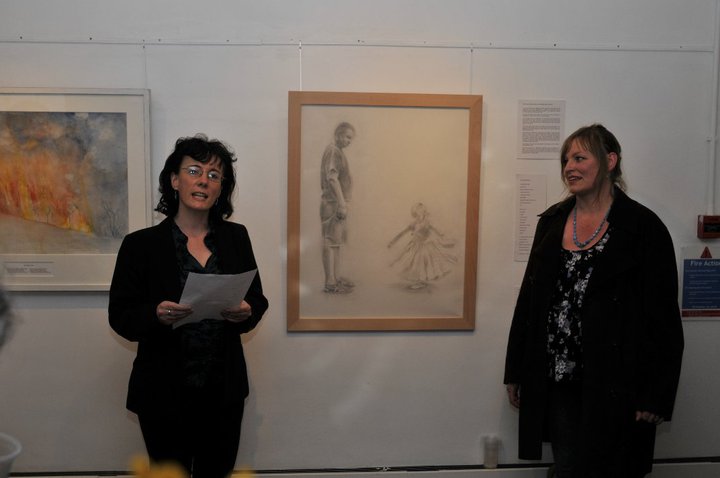 Poetry Blog - The Performance Of The Swindon Poet Group In Bath
BlueGate Poets In Bath

Sunday, February 27, 2011, by Crysse Morrison, Bath Poet
Voices in the City is the collective name for spoken word in Bath Literature Festival...
I was a brief drop-in, but managed to catch a superb set by BlueGate Poets from Swindon. Travellers without Baggage is the name of an anthology they have been working from, and their presentation combined some of the original poems by Valerie Clarke with their own responses and was both lyrical and moving.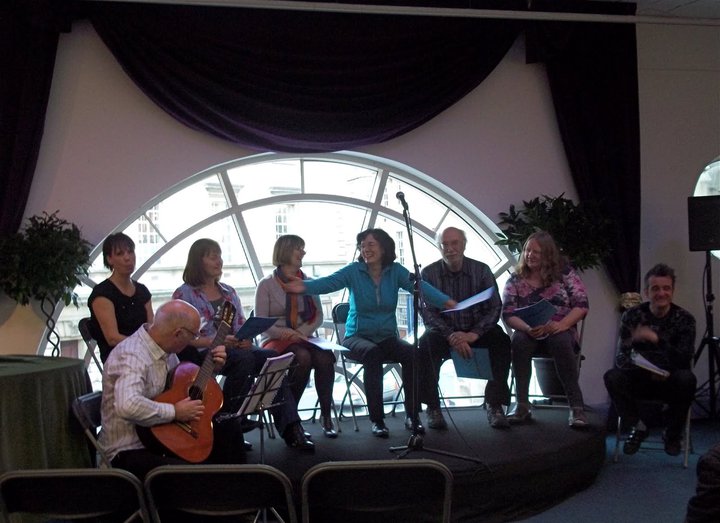 Travellers without Baggage is an Arts Council funded project.
The set was also performed at Cheltenham Literature Festival, UK – and Swindon Lit Festival, UK.
Original music was provided by the musician and Wiltshire artist, Stevie Gilmore.
Wroughton Prospect Hospice Fundraiser
August 21st 2011

Ian James Cabaret Evening - Wroughton Prospect Hospice Fundraiser
I was delighted to read one of my poems during this evening in memory of the pianist Ian James.
The tone of the evening was perfect - poignant at times, but very much a celebration of Ian's life, his love of his music and his intention to help the hospice.
I am sure that many there were feeling so sad at his absence, but they put on  a brave face and the evening was truly rich.
I live in Wroughton so it was a particular joy to be part of an evening to raise funds for the Prospect Hospice.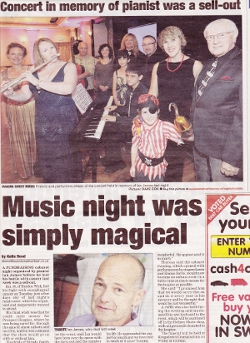 Move from Swindon Poet to listen to and watch some interviews with Katherine T Owen.

Receive daily inspiration...
Receive daily inspiration by putting
your favorite (favourite) quote on
an item you see daily around your home-
a mug, cushion, postcard, coaster, T shirt etc.
You will find my zazzle gift store at
zazzle.com/HealingStore.
Use one of my designs or start from a blank.

Thank you so much for supporting this website
www.a-spiritual-journey-of-healing.com
Katherine


My name is Katherine Owen.
Please respect my copyright as the author of this website.
I am delighted if you choose to share on social media, but please do NOT reproduce any of the contents of this page without permission.
© Katherine T Owen