A Poem About Acceptance – 


I Accept Where I am
and Who I Am

...Previous Page: A Motivational Poem about acceptance and allowance
It's OK to accept yourself as you are
There is a great little inspirational story you may have heard already:

Words of Spiritual Encouragement
A woman asks a second woman for directions.
The second woman pauses a minute, and answers:
"Oh, if I were you, I wouldn't start from here."
It is so so common that we do this to ourselves.
How often do you say: 
I should know how to do this or be this already.
For example, when thinking we should be different, we might say: 
I should be able to be calm. 
Do you know how to be calm all the time? 
No.
Do you know what? 
Right now, you are HERE in a place where you feel anger (if you do), and it is OK to be HERE.
When we accept ourselves as we are, we can stop putting our energy into pretending to be somewhere else. 
Then we can.... 
...get the help we need or 
...develop the skills we need or 
...receive the directions we need 
to take the next step.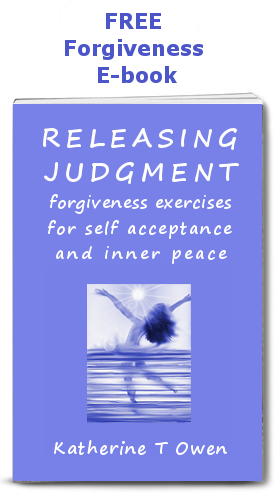 To receive Releasing Judgment, a FREE ebook
or just to keep in touch, sign in below.

Your email will definitely not be misused
and you can unsubscribe at any time.
With love, Katherine

Encouragement for acceptance of anger and anger management
Can you learn how to stay calmer more often? 
Yes, you can.
On the outside you might choose to 'act as if' you feel calm even if you don't.

But, by allowing yourself to feel what you feel you can also set out on the private journey to become someone who genuinely feels calm more often.
This emotional journey may mean recognising your anger. 
It may mean exploring your anger. 
It may mean feeling shocked at just how much anger you feel. 
But hey, isn't it great to accept you are HERE so you have the freedom to move somewhere else? 
Isn't it great to accept who you are, so you have the freedom to grow gently into who you choose to be next?


A Poem About Acceptance and Encouragement
Other articles relevant to Poem about Acceptance
Please respect the author's copyright. I am delighted if you choose to share on social media, but please do NOT reproduce any of the contents of this page without permission.
© Katherine T Owen