Prayer of Agreement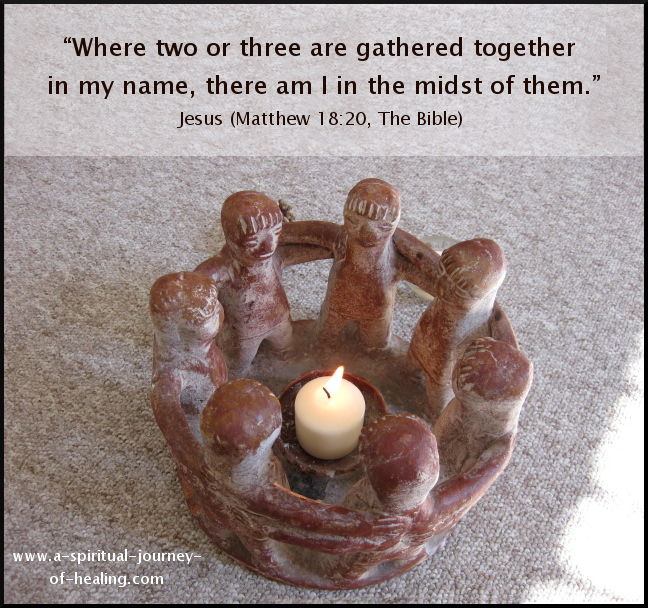 What is a prayer of agreement?
A prayer of agreement is two or more minds joined in prayer for a particular outcome.

Please consider this spirituality website as...
a prayer of agreement for
YOUR SPIRITUAL HEALING.

I join my mind with yours to celebrate your Innocence
(your Righteousness in God).
I ask you to join your mind with mine in celebrating the Innocence of myself and all who visit here.
We are as God created us.
Amen
Please consider this spirituality website as...
a prayer of agreement for
YOUR PHYSICAL HEALING.

I join my mind with yours to celebrate your Health in God.
I ask you to join your mind with mine in celebrating the Health of myself and all who visit here.
We are as God created us.
Amen
With my love to you,
Katherine

The Power of Joined Prayer
Both the Bible and A Course In Miracles agree that there is enormous power in minds joined in prayer.
"Again I say unto you,
That if two of you shall agree on earth as touching any thing that they shall ask,
it shall be done for them of my Father which is in heaven."(Matthew 18:19, KJV Bible verse)
"For where two or three are gathered together in my name,
there am I in the midst of them."
(Matthew 18:20, KJV e-sword)
"You have succeeded whenever you have reached another mind and joined with it.
When two minds join as one and share one idea equally,
the first link in the awareness of the Sonship as One has been made."
(T-16.II.4, A Course In Miracles quote)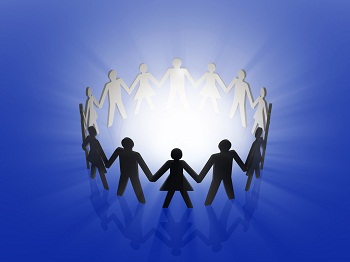 When I want my experience or my reality to change, I find it powerful to ask someone else to pray with me. Together we hold the vision for a new reality.
Why do prayers of agreement work?
Why do prayers of agreement work?
Because...
we are One in God, so all minds are joined.
One Christ mind holding in faith brings powerful results, but the greater the level of agreement, the greater the power to make manifest the vision we hold.
At the moment we have a world in which we have agreement that there is sickness, death, suffering.
Can we join in a prayer of agreement that God's reality of health, eternal life and peace are more and more present here on earth?

Can our prayers call such a world into being?

I believe they can.
I have experience that they can.
Other benefits from the prayer of agreement
When we pray a prayer of agreement with someone else, we are more likely to remember when and where we were when we prayed. We are more likely to take the prayer seriously.

By joining in prayer, we also have a prayer partner - someone who, with our permission, can remind us to rest in a place of trust for the outcome.
We pray.
God listens. (The universe responds.)
It is done.
Prayer of agreement for health

When praying for health, I really advise you to join in prayer of agreement for healing.
To hold the vision for health when symptoms in your body speak loudly of the reality of illness is a tough order.
You may need someone else who is in touch what it feels like to be in a healthy body to hold this space for you.

It's OK to need help.
Traditional Prayers As A Prayer of Agreement
Let us take the example of the Our Father Prayer, also known as the Lord's Prayer.

Part of the power of praying traditional prayers- set prayers that many people pray - is to join our mind with other people - those who are alive now, and those who have lived before us.
When I pray a traditional prayer I feel joined with people of all nationalities and all classes. I have a sense that we are one. I celebrate unity consciousness. This means a lot to me.
For example, I can be confident that someone in the world is praying The Our Father Prayer right now.
People have prayed The Our Father Prayer throughout the last 2000 years.
People are praying The Our Father Prayer all over the world.
By saying The Our Father Prayer we make a prayer of agreement to say:

"Thy kingdom come.
Thy will be done on earth as it is in heaven."

In joined prayer we call in a new world in which God is in charge.
How wonderful!

I joined minds in a time of physical isolation

This sense of joining minds with others was especially important to me in the years of living with illness and isolation (the illness Myalgic Encephalomyelitis /CFS).

Even from a bedroom, I could pray with others and for others.
I could remember that others were praying for my healing and for my spiritual upliftment.
I consider that prayer of agreement for healing was a significant factor in my healing from very severe Myalgic Encephalomyelitis /CFS to the greater level of health with which I live today.
Different kinds of prayer of agreement

Joined prayer with another is a powerful spiritual practice which works with or without belief.
You can join your mind with someone through all kinds of prayer, including visualisation and meditation.
In the age of the internet there are many opportunities for joined prayer, for example by joining groups on facebook that pray for a particular cause.
Groups who will pray for you

Please note, the inclusion of these links does not constitute an endorsement on my part. Also these recommendations may go out of date over time.

Quote about joined minds
"Now do we wait in quiet.
God is here, because we wait together.
I [Jesus] am sure that He will speak to you, and you will hear.
Accept my confidence, for it is yours.
Our minds are joined." (W-221.2, ACIM quote)
Related Spirituality Articles on www.a-spiritual-journey-of-healing.com

Christianity and Non-duality
I am as God created me.
I am healed. The rest is an illusion.
My prayer opens the door to the reality of God's abundance in my life.

Return for a full list of Prayers on a-spiritual-journey-of-healing.com
Receive daily inspiration...
Receive daily inspiration by putting
your favorite (favourite) quote on
an item you see daily around your home-
a mug, cushion, postcard, coaster, T shirt etc.
You will find my zazzle gift store at
zazzle.com/HealingStore (USA)

Use one of my designs or start from a blank.

zazzle.co.uk/HealingStore (UK)

Thank you so much for supporting this website
www.a-spiritual-journey-of-healing.com
Katherine


My name is Katherine Owen.
Please respect my copyright as the author of this website.
I am delighted if you choose to share on social media, but please do NOT reproduce any of the contents of this page without permission.
© Katherine T Owen