What To Do When Too Sick To Pray? Do You Think:
I Cannot Pray?
The articles listed below give advice on how to pray even when you feel too sick to pray.

Contents List for What To Do When Too Sick To Pray?
Or click through for this article on prayer for healing...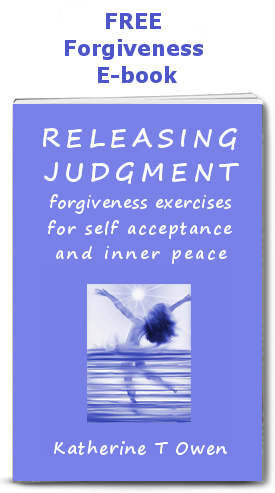 To receive Releasing Judgment, a FREE ebook
or just to keep in touch, sign in below.

Your email will definitely not be misused
and you can unsubscribe at any time.
With love, Katherine

Prayer is powerful

I lived with very severe CFS/ME for 18 years. (I still live with it at a significant level.)

When we are living with illness or hardship, it can be easy to dismiss prayer as something of less importance than the other things we do to survive.
But to discipline our minds to hold and cultivate a belief in a God of Love and provision is a powerful and wonderful thing.
Powerful words: "I can"

Our minds respond powerfully to our words.
When we say "I can....", it motivates us and sets our mind on track to find ways in which we can do whatever it is we are setting out to do.
Do you ever feel that you are too sick to pray?
If so notice that these words do not ask for what you want and replace them with...
"However my body feels, I can pray." Or...
"I am well enough to pray."
If you hear yourself say: "I cannot pray," notice these words are not what you want and replace them with...
"I can pray."
Please note, this does not mean you need to deny how you feel. 
Perhaps right now it may feel that you are too sick to pray, and that is OK.
But PRESS PAUSE.
If you felt well enough to pray, how would you feel then?

Asking this question is a very simple and powerful technique for switching your mind to focus on what you do want.
Be kind to yourself.
Focus on what you do well.
If you notice the thought that you are too sick to pray or too stuck to pray, please do not beat yourself up. For example, your self talk may include some of the following:
"Oh no, look I am feeling too sick to pray.
I feel too upset to pray.
I can't do it properly.
There is no point trying.
God won't hear such an imperfect prayer" etc. etc.
We can be good at being hard on ourselves, can't we?
Now, instead, you are skilfully noticing that your words are asking for what you don't want.
Your words are a prayer you would never choose to pray.
Now you are doing the wonderful thing of practising new words.
You are choosing to ask for what you do want.
Wow, how great that you noticed where your mind was going.
How great that you are exercising your power to change the direction of your mind.
Pray out loud
Praying out loud can be more powerful. It is more difficult for the chattering mind to go off in its own direction when you speak out loud. The mind is forced to stop and listen to what you are saying.
"I can do this."
"I can pray."
If you read those words, then well done.
Even if you didn't mean them, well done for saying them.

Pray the words even when they feel meaningless
Prayers are, on one level, just words.

Prayer expresses a willingness to believe that there is something bigger than yourself that can bring you a sense of peace in the situation you are in.
Is prayer just empty words?
No.
But there may be times when prayer feels like empty words.
There may be times when you feel you are wasting our time.
There may be times when you feel you are just too sick to pray.
There may be times when you feel lost in the world with little connection to God.
But if you want to experiment with the effectiveness of prayer, you can say words of prayer no matter how you feel.
You are doing something wonderful by being willing to pray
In the times when you are not feeling connected with God, there are no angelic bells ringing, no transcendent experiences, no sweet feeling of bliss or unity, perhaps no evidence whatsoever in your circumstances of a loving, all-powerful God.
Praying in these times of doubt is a powerful and beautiful thing:
You seem to feel too sick to pray and you are praying anyway. Well done.
You are experiencing symptoms and believing in a God who gives you only health.
You are believing in a God who offers more than health. He/She offers the peace that passeth understanding. A peace that is greater than your symptoms.
You are standing in the darkness and calling on the light.
You are hanging on the cross and believing in the resurrection.
You are doing something truly wonderful.
Thank you.
---
Move to the next prayer article which includes:
Action Points for

how to pray

A Short Prayer to Bless you
Move to read a list of prayers on this website.

Click on the link below for the main page on Prayer for Healing

Receive daily inspiration...
Receive daily inspiration by putting
your favorite (favourite) quote on
an item you see daily around your home-
a mug, cushion, postcard, coaster, T shirt etc.
You will find my zazzle gift store at
zazzle.com/HealingStore.
Use one of my designs or start from a blank.

Thank you so much for supporting this website
www.a-spiritual-journey-of-healing.com
Katherine


My name is Katherine Owen.
Please respect my copyright as the author of this website.
I am delighted if you choose to share on social media, but please do NOT reproduce any of the contents of this page without permission.
© Katherine T Owen