Denial Illness -
Shock and Disbelief are Normal
Denial Illness continues from a list of articles on: The Seven Stages of Grief
Contents of this article on Illness, Shock and Denial:
Shock and denial is the first stage of grief towards facing up to illness

Whilst we are in denial it can be difficult to move forward
Tears can be a sign that denial is shifting
---
Shock And Denial of Being Ill
The first phase of the 7 stages of grief is shock and denial:
"They must have mixed up my test results with someone else's."
"The tests show negative so I can't really be ill can I?"
"They can't tell me what it is so I can't be ill."
"How can I have got so ill?"
"This can't be happening to me."
We choose to believe that it isn't happening, although of course we know on some level that it is. We are therefore in a place of conflict.
This isn't a nice place to be, but – like all the other phases – this stage of grief is necessary.

---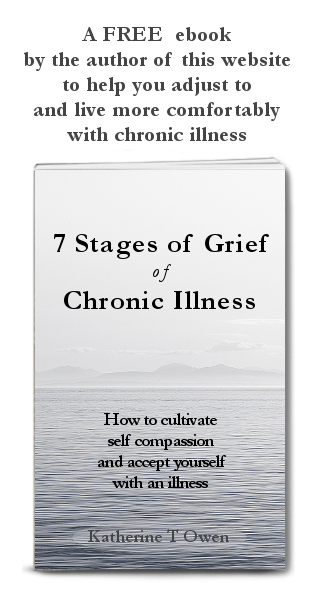 This article on the 7 stages of grief in chronic illness is NOW included in a FREE ebook.
The book includes additional information which helps you to be gentle with yourself in a time of illness.

The link above and the cover below take you to visit my healing website where you can collect your FREE copy of the book.

There is a time when it really is too much for us to believe this is happening. Denial protects us by letting in only the information we can deal with.


Whilst We Are In Denial It Can Be Difficult To Move Through The Stages
I knew that I needed to pass through denial:
I needed to learn to rest if I were to halt the decline of the illness and recover. I was only going to learn to rest, if I reached some level of acceptance of illness.
I reached the point where I needed to learn to use a wheelchair to maximise my independence and allow me to leave the house. I was only going to accept a wheelchair if I reached some level of acceptance of illness.
I needed help from others. I was only going to ask for that help and find it OK to receive help if I reached some level of acceptance of illness.
I needed to move away from certain people who were in denial about me being ill. I was only going to go through the pain of doing this, if I reached some level of acceptance of illness.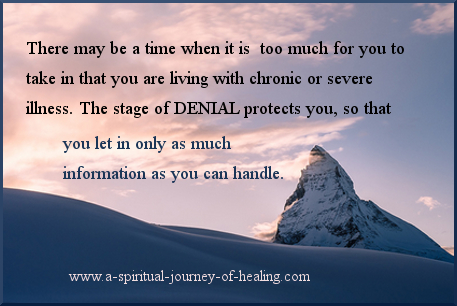 Tears Can Be A Sign That Denial Is Shifting
For a long time, I did not accept that I was ill.
A year and a half year after I got too ill to work, I finally wept because I accepted that 4 weeks from then I would probably still be ill. Probably.
Those tears were good tears. They were a sign that I was moving forward through the 7 stages of grief.


---
Other Articles Related To Denial Illness
Most health articles on this site are designed to help to raise your belief in LIFE within chronic illness and your hope for recovery.
But if you are in denial with the illness Chronic Fatigue Syndrome /ME, you may actively want to face up to how serious it can be.
If so, please move to Chronic Fatigue Syndrome is a serious condition.

Move from Denial Illness to the home page - How To Deepen Our Spirituality


Receive daily inspiration...
Receive daily inspiration by putting
your favorite (favourite) quote on
an item you see daily around your home-
a mug, cushion, postcard, coaster, T shirt etc.
You will find my zazzle gift store at
zazzle.com/HealingStore (USA)

Use one of my designs or start from a blank.

zazzle.co.uk/HealingStore (UK)

Thank you so much for supporting this website
www.a-spiritual-journey-of-healing.com
Katherine


My name is Katherine Owen.
Please respect my copyright as the author of this website.
I am delighted if you choose to share on social media, but please do NOT reproduce any of the contents of this page without permission.
© Katherine T Owen