The Benefits of Religion

In this religious article, I consider some of the benefits of religion.
When I was considering going back to church, I was put off by the bad reputation of religion. I had become prejudiced.
I felt I had to justify the decision. 
Nowadays I am happy that the spiritual (and other) benefits for me are reason enough to attend and that, in theory, I do not need to justify my decision to others.
Nonetheless, I though it would be interesting to speak here of some of the benefits of religion. In the wider world in which I live, I rarely hear these mentioned.

The benefits of religion for the secular community

(This is the same information as in the graphic above, but expanded.)

Many people find in religion a place in which they experience a sense of community and can act in service to their community.

Churches in the UK organise meals and trips for those who live alone, for the elderly and for the homeless.

Statistically the religious are healthier and live longer.
Church services play a huge role in marking significant life events - births, marriages and deaths. Many people - on both an individual and national level - find these ceremonies to be of huge comfort.
The church in the UK, and many other countries, takes care of the maintenance of buildings of astoundingly rich historical interest.

Down the ages religion has contributed hugely to art and music.

For centuries, if not millennia, education took place chiefly in religious establishments. The name 'professor' came from one who 'professed' his faith.

A vast number of voluntary organisations in the UK and globally are manned by people of faith. Faith emphasises the importance of service to others.
Most religions teach the golden rule: Do to others as you would have done to you.
The Christian churches feed and educate huge swathes of the developing countries. I heard an estimate that 50% are catered for by the Catholic Church alone. Who else would take on that work?

Religion also contributes to peace in many ways.
The belief that we are all fundamentally connected or even made in the image of God is shared by many religions and can help to break down prejudice between nations.
Unfortunately as we know this is not always the case and religion can also be the cause of war.
Religion also contributes to peace as a side-effect of the extent of the food and education it provides. Many wars are motivated by the desire of a nation for more money or more power. A church which provides food and empowers people to believe in their own worth and the worth of others is a church that increases the chance of peace.
The above benefits of religion are easy to relate to for those who are not on a spiritual path.
But none of these points touch on the main intent and benefits of religion, which is the role they serve for people of faith.

The benefits of religion for people of faith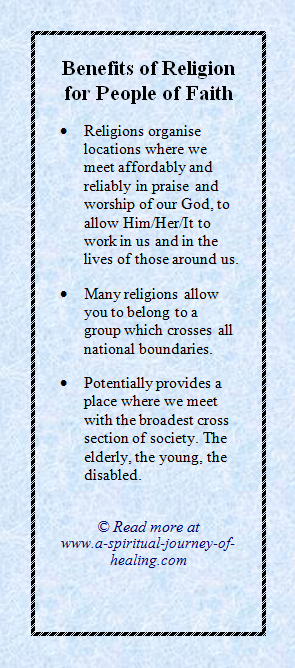 (This is the same information as in the graphic above, but expanded.)
Affordable regular meetings.
Religions organise locations where we meet affordably and reliably in praise and worship of our God, to allow Him/Her/It to work in us and in the lives of those around us.
As a student of A Course In Miracles - a spiritual path, but not a religion, I may or may not find a local group to join with.
One of the benefits of religion is that I can join with my local community in prayer.


Part of a world wide network.
I have always found it wonderful to belong to a group that crosses all national boundaries. When I had more severe CFS and was dependent on care, most of my carers were immigrant to the UK. Yet, since many were Christians, we had something in common.

Advice and support.
Those who know the same stories and prayers can share meaningful advice with each other in a kind of shorthand.

The book of the Bible becomes so rich for Christians [or the Koran for Muslims or....] that for someone to quote a scripture or a parable can be enough for us to draw on all the wisdom of that story.

I speak here about how the line "The Lord is my Shepherd" came to comfort me in dark times. 
A cross section of society.
A personal benefit of religion for me is that the church is the place where I meet with the broadest cross section of society.
In my church I have three friends over 90 years old.
It's the only group I belong to where I meet young children and get to watch to them grow up.
It's the only group I belong to in which disabled people take part as a matter of course.
---
Receive daily inspiration...
Receive daily inspiration by putting
your favorite (favourite) quote on
an item you see daily around your home-
a mug, cushion, postcard, coaster, T shirt etc.
You will find my zazzle gift store at
zazzle.com/HealingStore (USA)

Use one of my designs or start from a blank.

zazzle.co.uk/HealingStore (UK)

Thank you so much for supporting this website
www.a-spiritual-journey-of-healing.com
Katherine


My name is Katherine Owen.
Please respect my copyright as the author of this website.
I am delighted if you choose to share on social media, but please do NOT reproduce any of the contents of this page without permission.
© Katherine T Owen