The Spiritual Journey
Books and Writing on the Spiritual Journey
by Katherine T Owen

My books are travel guides on the spiritual journey. This page serves as an introduction to how I came to write the following two books:

It's OK To Believe A Journey with Faith and Reason

Be Loved Beloved 15 Spiritual Love Poems, God Love, Self Love

This entire website shares information from my spiritual journey.
Please click on the nav bar on the left for a subject that calls you.

This introduction answers the following questions:
For how long were you bedbound through illness?
How did you start writing books?
What if I use a word other than God to describe the Universal Force?
Can you explain the layout of It's OK To Believe?
How can we use the spiritual quotes in your books (or any others) as part of our spiritual practice?
If you believe in many paths to God, why does It's OK To Believe include quotes from only The Bible and A Course In Miracles (ACIM)?

Soon after graduating in Accountancy and French, I became seriously ill. One day, eighteen months later, I was unable to walk to the office, and was shortly afterwards diagnosed with ME /CFS (Myalgic Encephalomyelitis/ Chronic Fatigue Syndrome). I subsequently spent fourteen years bedbound with little movement and little speech.

Given no diagnosis initially, and then one with no cure, I chose to look within, embarking first on the psychological and then, increasingly, the spiritual journey.
My life took on two sides: the difficult circumstances in which I was living – fighting to survive, and the rich, although initially also gruelling, spiritual journey.
Part way into this spiritual journey, I started receiving spiritual poems and other poems. Most were dictated as I could physically write very little.
I call these inspirations. The word inspiration means 'coming from Spirit'.
Sometimes they are thought-bites, sometimes poems, but they are always inspired.
The spiritual practice of forgiveness led me to open my mind to insights. Poems were a frequent by-product of this journey.
I was dictating/writing in this way for many years before I noticed the recurrence of themes and started to gather together poems on the same subject.
The poems served to guide me on my own spiritual journey.
There was no prospect at that time that they would become books for others to read.

I have written Be Loved Beloved - a much smaller book designed as a gift for oneself or for a loved one to help on the journey to allow yourself to be loved by God and progress with self love.

Be Loved
Beloved
15 Spiritual Love Poems
God Love Self Love
(by the author of a-spiritual-journey-of-healing.com)
For 14 years, Katherine T Owen was severely disabled with Myalgic Encephalomyelitis, unable to walk, with little speech, and with inadequate care.
Katherine's small beautiful collection of poems take the reader with her as she journeys to know both self love and
God's love.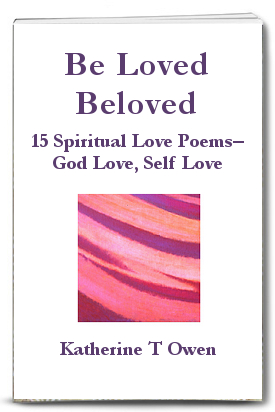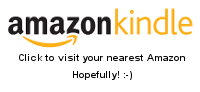 If you don't have a kindle, you can download FREE software to read the kindle book on your computer.
---

Click to preview or BUY
the PAPERBACK of
Be Loved Beloved

---
"One thing that struck me was the stripping of ego in the work. Most of us have a comfy ego façade, but weakness and disease tore Katherine's away. The poems in Be Loved Beloved come from the heart."
Dana Taylor, Author of Ever-Flowing Streams: Tapping into Healing Energy

Please feel free to use whichever term works for you, such as Higher Self, Love, Light, The Universe or Presence.
For me God is Love, God is an experience. God is All That Is. The different words are not important. I understand that different words are more helpful to different people. It is important to use a word that connects you with Love.
We can ask for healing around our reactivity to a word.
'God' is a word that is worth making our peace with if possible, as it is used by so many millions of our brothers round the planet.
I used to be unable to use the word 'God'. For many years now, I have embraced it.
In reference to God, I mainly use the pronoun 'He'. If this puts you off then please replace it as She or It.
Equally it may annoy some of you that I use 'She'.
Once again, please use the words that best connect you with Truth.

Can you talk aboutt the layout of the book It's OK To Believe?
The narrative at the start of each chapter conveys my journey with a particular question of faith.
Each spiritual poem is accompanied by an exercise in self acceptance.
Each spiritual poem is also accompanied by a quote from either the Bible or A Course In Miracles – a spiritual text written in the 1970's. The spiritual quote can be reflected upon as part of your spiritual practice.

How can spiritual poetry assist our spiritual practice?

The nature of poetry – its rhythm and spaciousness on the page – encourages us to slow down, to breathe and to remain in a heart rather than a head space.
The concise use of words to convey an idea or shift our mindset allows us not to get lost in the words. We pause and allow God to speak to us through the spaces.
Metaphor and imagery in spiritual poetry allow us to bypass the mind's tendency to filter information to fit our preconceived ideas. We open to a new way of seeing the ordinary.

Other articles relevant to Spiritual Journey Book

Receive daily inspiration...
Receive daily inspiration by putting
your favorite (favourite) quote on
an item you see daily around your home-
a mug, cushion, postcard, coaster, T shirt etc.
You will find my zazzle gift store at
zazzle.com/HealingStore (USA)

Use one of my designs or start from a blank.

zazzle.co.uk/HealingStore (UK)

Thank you so much for supporting this website
www.a-spiritual-journey-of-healing.com
Katherine


My name is Katherine Owen.
Please respect my copyright as the author of this website.
I am delighted if you choose to share on social media, but please do NOT reproduce any of the contents of this page without permission.
© Katherine T Owen