Bible Christmas Scriptures
Read also Guidance For The Spiritual Journey Through Bible Christmas Verses
Where Do I Find Bible Scriptures on Christmas?
Below are Christmas bible verses from the gospel of Luke.Chapter 1, Verses 27-38

Bible Christmas verses also appear in The Gospel according to Matthew, Chapter 1, Verses 18-2:23

I use the KJV esword version because it is an online version of the Bible.
You may prefer other versions of the Bible which speak in more modern language. For example the NIV, and especially The Message.
In the scriptures on Christmas in the Gospel of Matthew, Jesus is referred to as Immanuel, translated as "God with us".
I love that.
The birth, life and death of Jesus let us know that God is not some distant being or a vague nice idea. God is with us, living in us.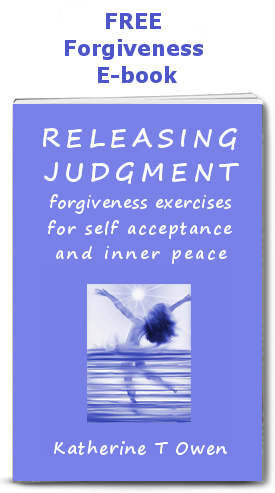 To receive Releasing Judgment, a FREE ebook
or just to keep in touch, sign in below.

Your email will definitely not be misused
and you can unsubscribe at any time.
With love, Katherine

In how many Gospels does the story of Christmas appear?

The Bible Christmas story appears in only two gospels.
There are no Bible Christmas scriptures in the gospels of Mark and John.
This is a clear indication that Easter is the main celebration of the Christian church.

Another interesting fact is that, although the three kings or wisemen have become well known as part of the Bible Christmas story they do not appear in the Nativity story in the gospel of Luke.

Bible Christmas Scriptures
The Angel Gabriel Visits Mary - The Annunciation
"And in the sixth month the angel Gabriel was sent from God unto a city of Galilee, named Nazareth, To a virgin espoused to a man whose name was Joseph, of the house of David; and the virgin's name was Mary.
And the angel came in unto her, and said, Hail, thou that art highly favoured, the Lord is with thee: blessed art thou among women.
And when she saw him, she was troubled at his saying, and cast in her mind what manner of salutation this should be.
And the angel said unto her, Fear not, Mary: for thou hast found favour with God. And, behold, thou shalt conceive in thy womb, and bring forth a son, and shalt call his name JESUS.
He shall be great, and shall be called the Son of the Highest: and the Lord God shall give unto him the throne of his father David:
And he shall reign over the house of Jacob for ever; and of his kingdom there shall be no end.
Then said Mary unto the angel, How shall this be, seeing I know not a man?
And the angel answered and said unto her, The Holy Ghost shall come upon thee, and the power of the Highest shall overshadow thee: therefore also that holy thing which shall be born of thee shall be called the Son of God.
And, behold, thy cousin Elisabeth, she hath also conceived a son in her old age: and this is the sixth month with her, who was called barren. For with God nothing shall be impossible.
And Mary said, Behold the handmaid of the Lord; be it unto me according to thy word. And the angel departed from her.
Bible Christmas Scriptures:
Mary visits her cousin Elizabeth
And Mary arose in those days, and went into the hill country with haste, into a city of Juda; And entered into the house of Zacharias, and saluted Elisabeth.
And it came to pass, that, when Elisabeth heard the salutation of Mary, the babe leaped in her womb; and Elisabeth was filled with the Holy Ghost:
And she spake out with a loud voice, and said, Blessed art thou among women, and blessed is the fruit of thy womb.
And whence is this to me, that the mother of my Lord should come to me? For, lo, as soon as the voice of thy salutation sounded in mine ears, the babe leaped in my womb for joy.
And blessed is she that believed: for there shall be a performance of those things which were told her from the Lord.

And Mary said, My soul doth magnify the Lord,
And my spirit hath rejoiced in God my Saviour.
For he hath regarded the low estate of his handmaiden: for, behold, from henceforth all generations shall call me blessed"
(Luke 1:26 -48, KJV esword)
Bible Christmas Scriptures:
Joseph and Mary go to Bethlehem where Jesus is born
"And all went to be taxed, every one into his own city.
And Joseph also went up from Galilee, out of the city of Nazareth, into Judaea, unto the city of David, which is called Bethlehem; (because he was of the house and lineage of David:)
To be taxed with Mary his espoused wife, being great with child.
And so it was, that, while they were there, the days were accomplished that she should be delivered.
And she brought forth her firstborn son, and wrapped him in swaddling clothes, and laid him in a manger; because there was no room for them in the inn."

Bible Christmas Scriptures:
An angel tells the shepherd of the birth of Jesus
"And there were in the same country shepherds abiding in the field, keeping watch over their flock by night.
And, lo, the angel of the Lord came upon them, and the glory of the Lord shone round about them: and they were sore afraid.
And the angel said unto them, Fear not: for, behold, I bring you good tidings of great joy, which shall be to all people.
For unto you is born this day in the city of David a Saviour, which is Christ the Lord.
And this shall be a sign unto you; Ye shall find the babe wrapped in swaddling clothes, lying in a manger.
And suddenly there was with the angel a multitude of the heavenly host praising God, and saying,
Glory to God in the highest, and on earth peace, good will toward men.
And it came to pass, as the angels were gone away from them into heaven, the shepherds said one to another, Let us now go even unto Bethlehem, and see this thing which is come to pass, which the Lord hath made known unto us.
And they came with haste, and found Mary, and Joseph, and the babe lying in a manger.
And when they had seen it, they made known abroad the saying which was told them concerning this child.
And all they that heard it wondered at those things which were told them by the shepherds.
But Mary kept all these things, and pondered them in her heart.
And the shepherds returned, glorifying and praising God for all the things that they had heard and seen, as it was told unto them."
(Luke 2:3-20, KJV esword)
I took the photo of this picture of the annunciation in St Mary's church, Purton, Wiltshire, close to where I live.
My grateful thanks to the artist and to the parishioners of that parish, Katherine

Bible Christmas Scriptures from the Gospel of Matthew

Joseph Accepts Jesus as His Son
This is how the birth of Jesus the Messiah came about : His mother Mary was pledged to be married to Joseph, but before they came together, she was found to be pregnant through the Holy Spirit.
Because Joseph her husband was faithful to the law, and yet he did not want to expose her to public disgrace, he had in mind to divorce her quietly.
But after he had considered this, an angel of the Lord appeared to him in a dream and said, "Joseph son of David, do not be afraid to take Mary home as your wife, because what is conceived in her is from the Holy Spirit.
She will give birth to a son, and you are to give him the name Jesus, because he will save his people from their sins."
All this took place to fulfill what the Lord had said through the prophet: "The virgin will conceive and give birth to a son, and they will call him Immanuel" (which means "God with us").
When Joseph woke up, he did what the angel of the Lord had commanded him and took Mary home as his wife.
But he did not consummate their marriage until she gave birth to a son.
And he gave him the name Jesus.
(Matthew 1:18-25, NIV Bible Christmas Scripture)

Bible Christmas Scriptures

The Kings and the birth of Jesus
"Now when Jesus was born in Bethlehem of Judaea in the days of Herod the king, behold, there came wise men from the east to Jerusalem,
Saying, Where is he that is born King of the Jews? for we have seen his star in the east, and are come to worship him.
When Herod the king had heard these things, he was troubled, and all Jerusalem with him.
...And he sent them to Bethlehem, and said, Go and search diligently for the young child; and when ye have found him, bring me word again, that I may come and worship him also.
When they had heard the king, they departed; and, lo, the star, which they saw in the east, went before them, till it came and stood over where the young child was.
When they saw the star, they rejoiced with exceeding great joy.
And when they were come into the house, they saw the young child with Mary his mother, and fell down, and worshipped him: and when they had opened their treasures, they presented unto him gifts; gold, and frankincense, and myrrh.
And being warned of God in a dream that they should not return to Herod, they departed into their own country another way.
And when they were departed, behold, the angel of the Lord appeareth to Joseph in a dream, saying, Arise, and take the young child and his mother, and flee into Egypt, and be thou there until I bring thee word: for Herod will seek the young child to destroy him.
When he arose, he took the young child and his mother by night, and departed into Egypt:"
(Matthew 2:2-3,8-14, KJV esword)
---
Bible Christmas Scriptures from the Old Testament

"The Lord will abandon them till the time when she who is to give birth gives birth.
Then the remnant of his brothers will come back to the sons of Israel.
He will stand and feed his flock with the power of the Lord,
with the majesty of the name of the Lord his God.
He himself will be peace."
(Micah 5:2-3,4, NIV)

Relevant articles on faith and religion

Move from Bible Christmas Scriptures to the home page - Practical Spirituality and Healing

Receive daily inspiration...
Receive daily inspiration by putting
your favorite (favourite) quote on
an item you see daily around your home-
a mug, cushion, postcard, coaster, T shirt etc.
You will find my zazzle gift store at
zazzle.com/HealingStore.
Use one of my designs or start from a blank.

Thank you so much for supporting this website
www.a-spiritual-journey-of-healing.com
Katherine


My name is Katherine Owen.
Please respect my copyright as the author of this website.
I am delighted if you choose to share on social media, but please do NOT reproduce any of the contents of this page without permission.
© Katherine T Owen