Encouragement Poems -


7. I Have Success Whilst I Am Learning
Both the spiritual journey and the healing journey involve learning

You are reading this series of articles and encouragement poems on a website that talks chiefly about spirituality and healing.
When you pursue the spiritual journey there are many times when you are setting out to learn something.
It may be a spiritual practice, such as forgiveness, blessing or mediation.
It may be a commitment to remembering quotes from a holy book and applying those spiritual quotes to your life at the moments when you are holding a vision for a new reality.
Likewise, if you are on a healing journey you may be setting out to practise qigong each day, or the EFT technique or any number of self healing methods.
Use this series of articles on learning and encouragement to help you to persevere in your practice of choice.

It's OK to think you are getting everything wrong when you already have success
The previous one of the encouragement poems raised our belief that we can learn; at least enough for us to set out to learn.

Now, what attitude do we need to keep on learning?
A Poem About Learning
It Is Plenty
When you sit in the classroom on
the first day and
know absolutely nothing about
the subject,
you are doing well.
You are turning up,
You are interested in knowing,
You are willing to listen;
It is plenty.



It's OK to think you are failing because you have no idea how to do it.
"Teachers must be patient and repeat their lessons until they are learned." (T-4.I.7, A Course In Miracles)
© Katherine T Owen
Spiritual poems by the author on this site
For a FREE ebook of forgiveness exercises – It's OK to...
For a discussion on how to use spirituality quotes as part of your spiritual practice.


When we learn something new, it's OK not to know how to do this.
Think about that for a minute.
Of course it's OK not to  know how to do this.
If you knew how to do it already, you wouldn't be setting out to learn!
And yet, we start something, and say:
"Oh, look, I am no good."
"This means I can never learn it."

When we set out on the spiritual journey or to learn a life skill, we often do much of it on our own. It is particularly important to see the ways in which we already have success.
The encouragement poem above helps to shift your focus to the success you have even on your first day of learning something.

Other Successes:
You are aware there is something of value to learn.
You are aware you don't already know it.
You have taken action on your willingness to learn.
You have found a teacher.
You are engaging in a discipline to make sure you keep learning.

Focusing on our current success allows us to be successful on every step of the journey towards our goal.
What are you doing right today?
What evidence do you have that you can do this?
Shift the focus from success in the future, to the success you already have.
You are fantastic.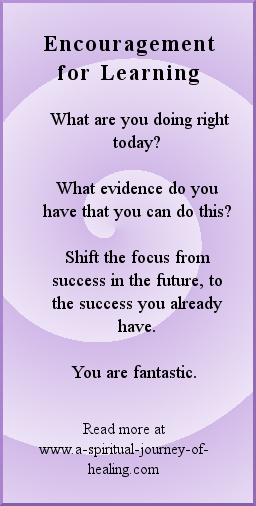 Move to the next one of the Encouragement Poems: The Tortoise and the Hare

Move back to The Contents List for Inspirational Encouragement Poems


Receive daily inspiration...
Receive daily inspiration by putting
your favorite (favourite) quote on
an item you see daily around your home-
a mug, cushion, postcard, coaster, T shirt etc.
You will find my zazzle gift store at
zazzle.com/HealingStore (USA)

Use one of my designs or start from a blank.

zazzle.co.uk/HealingStore (UK)

Thank you so much for supporting this website
www.a-spiritual-journey-of-healing.com
Katherine


My name is Katherine Owen.
Please respect my copyright as the author of this website.
I am delighted if you choose to share on social media, but please do NOT reproduce any of the contents of this page without permission.
© Katherine T Owen