Spiritual Blog


Positive News
Positive News In The World
Today I came across a beautiful UK newspaper called Positive News. It is full of news about all the good things happening in the world. How great is that!
I cried my way through a number of the articles. They speak of beautiful people doing beautiful things; people who care enough to want to make a difference. I think I cried because there were many difficult years when I held to belief in the beauty in all of us all. Often it was difficult to see it.
What a different world this would be if we read good news more than bad. 
It really is quite bizarre how we diligently search out and broadcast the worst news we can find.
Positive News About Yourself
Given that we broadcast bad news about the world, perhaps it is not surprising that in our lives we tend to focus on our weakness rather than focus on the good things about ourselves.
The other day I asked someone with the illness ME to tell me four things she likes about herself. She struggled to think of one. Yet she is a lovely lady.
Action Point:
Notice and focus on your achievements
What have you done well today?
Ask yourself:
What have I done well today?
Get in the habit of doing this each night time.
If you notice you have done something well during the day, tell yourself:
"Well done."
It may seem strange at first, but it really does make a difference to have someone in your life who focuses on what you do well.
Do you ever find yourself wishing that someone would be more positive about you?
Who better to have saying nice things about you than someone who is with you 24 hours a day? - yourself.


Focus on the positive things about you, the good things about yourself, so that you are heartened and encouraged to grow in love.
The spiritual book, A Course In Miracles is great at emphasising that, if we only have a little willingness to allow God to decide for us, we cannot fail.


"I have perfect faith in you to do all that you would accomplish.
Nothing will be lacking, and you will make complete and not destroy."
(T-15.XI.10, A Course In Miracles)

How Positive That The News Is Bad!
We can get brought down by the amount of bad news broadcast on the media.

But think about it. Isn't it positive news that most of the news is bad?!
It won't make the news tonight
...that a priest gets out of bed to pray with a dying person,
...that a vicar sets up a nursery,
... that people of all beliefs and none do voluntary work,
... that people care for their ill relatives and friends
... that people living with chronic illness find a smile for a loved one
...that millions of people go to work and do a great job even though they could get away with doing a bad job
Why not? 
Because these things happen EVERY DAY. That is GOOD NEWS.
A Poem About Faith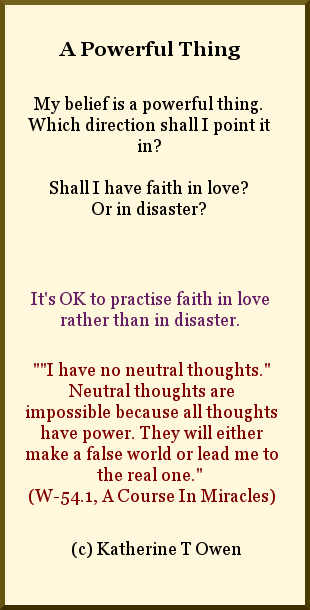 Is it unrealistic to have faith in love?
Having faith in love does not mean pretending difficult things are not happening. It does mean holding to the belief that there is a loving reality beyond the circumstances.
If someone is living with illness, we can give the help we can give on a physical level whilst holding to something that remains perfect in that person whatever appears to be happening in the body.
For the many years I was living with Severe Myalgic Encephalomyelitis  /CFS, the few people who could see me beyond the symptoms of the illness helped me enormously. Even better if they could see the Christ in me.
When I was with them, it was easier to remember the wonderful quote from A Course In Miracles:
"I am not a body. I am free. For I am still as God created me."
(W-rVI, A Course In Miracles)
The spiritual blog today celebrates this newspaper for sharing positive news stories.
Click here to go to the website on Positive News
Articles on a-spiritual-journey-of-healing.com relevant to Positive News:
Move to the Contents List for Spiritual Blog UK
Receive daily inspiration...
Receive daily inspiration by putting
your favorite (favourite) quote on
an item you see daily around your home-
a mug, cushion, postcard, coaster, T shirt etc.
You will find my zazzle gift store at
zazzle.com/HealingStore (USA)

Use one of my designs or start from a blank.

zazzle.co.uk/HealingStore (UK)

Thank you so much for supporting this website
www.a-spiritual-journey-of-healing.com
Katherine


My name is Katherine Owen.
Please respect my copyright as the author of this website.
I am delighted if you choose to share on social media, but please do NOT reproduce any of the contents of this page without permission.
© Katherine T Owen