Short Inspirational Poems on the Theme of "I Rest in God"
The previous page includes an extract from ACIM on I Rest in God. You can also click to listen to audios of short inspirational poems by myself, Katherine T Owen.

A Moments Indulgence

by Rabindranath Tagore
I ask for a moment's indulgence to sit by thy side.
The works I have in hand I will finish afterwards.
Away from the sight of thy face my heart knows no rest nor respite,
and my work becomes an endless toil in a shoreless sea of toil.
Today the summer has come at my window with its sighs and murmurs;
and the bees are plying their minstrelsy at the court of the flowering grove.
Now it is time to sit quiet, face to face with thee,
and to sing dedication of life in this silent and overflowing leisure.


Isn't that a fabulous spiritual poem about God being our all in all?!
I have only just discovered Tagore, so I look forward to reading more of his work.

I hope you enjoyed it too.
Here are two inspirational poems about rest of my own....

Short Inspirational Poems about rest by Katherine T Owen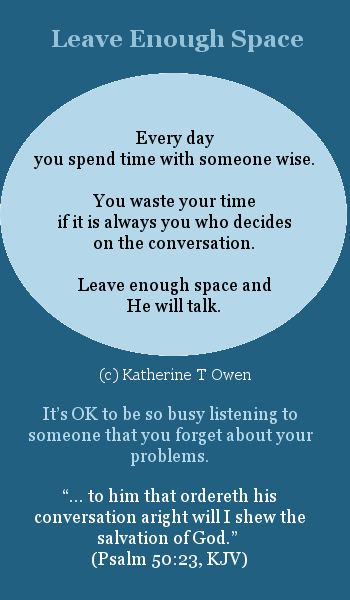 Thank you
I have only to
be still and quiet
to be at one with
the Beloved.
I lie here crying
at the sweetness of You.
All I can say is
Thank you.
Well done for experiencing the independence from the world which comes from dependency on God.
"Blessed are the eyes which see the things you see; for I tell you that many prophets and kings have desired to see what you see, and have not seen it, and to hear what you hear, and have not heard it."
(Luke 10:23-24, NKJV)

© Katherine T Owen
Spiritual poems by the author on this site
For a FREE ebook of forgiveness exercises – It's OK to...
For a discussion on how to use spirituality quotes as part of your spiritual practice.


Love Poems From God is my favourite book of inspirational poems. It includes God-filled poetry from many mystics of various spiritual traditions - Christian, Islam, Hindhu.
I felt such a sense of companionship when I found out that so many people down the millenia, like myself, have written love poems to and from God :-)

An inspirational poem about rest which was written long ago has been submitted by a visitor and is clearly very popular.
Click to read... Slow Me Down Lord.
I wish you a peace full, God-full day :-)
Katherine

Move from Short Inspirational Poems to the home page - How To Deepen Our Spirituality
Receive daily inspiration...
Receive daily inspiration by putting
your favorite (favourite) quote on
an item you see daily around your home-
a mug, cushion, postcard, coaster, T shirt etc.
You will find my zazzle gift store at
zazzle.com/HealingStore (USA)

Use one of my designs or start from a blank.

zazzle.co.uk/HealingStore (UK)

Thank you so much for supporting this website
www.a-spiritual-journey-of-healing.com
Katherine


My name is Katherine Owen.
Please respect my copyright as the author of this website.
I am delighted if you choose to share on social media, but please do NOT reproduce any of the contents of this page without permission.
© Katherine T Owen